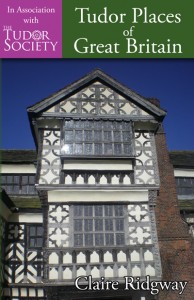 Just a quick post to let you know that my latest book Tudor Places of Great Britain is now available as a paperback. Amazon.com have it in stock and Amazon UK are "temporarily out of stock" but are taking orders for delivery as soon as they have it. It is already available in Kindle.
Here are the book details:
The Tudor dynasty ruled from 1485 to 1603 and had a huge impact on England and Wales, not only on society but also on the British landscape. Henry VIII was a keen builder, building and renovating properties to serve as pleasure palaces, but his Dissolution of the Monasteries also led to historic properties falling into ruin. Tudor favourites spent their new-found wealth building lavish mansions or converting castles into sumptuous manor houses as statements of their success and to impress the visiting monarch.
In Tudor Places of Great Britain, Tudor history author and founder of the Tudor Society Claire Ridgway guides the reader through properties linked to Tudor monarchs and prominent people of the time, from impressive palaces like Hampton Court Palace, through romantic monastic ruins and merchant houses, to unspoilt villages like Lavenham and Weobley.
With over 175 listings, which include descriptions and highlights, full address and website details, Tudor Places of Great Britain is a comprehensive guide to British Tudor places.
Paperback: 412 pages
Publisher: MadeGlobal Publishing (30 Oct. 2015)
Language: English
ISBN-10: 8494457462
ISBN-13: 978-8494457463
Click here to view it at your Amazon store.