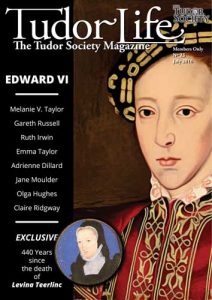 This month's Tudor Life, the Tudor Society magazine, is commemorating the anniversary of the death of Edward VI on 6th July with an Edward VI special. The "boy king" is often overlooked so I'm really pleased that editor Gareth Russell chose to highlight him and his reign in the magazine. It's choc-a-block with fascinating insights.
Tudor Society members can enjoy the full magazine and if you're not a member then you can enjoy a taster/teaser at https://www.tudorsociety.com/july-tudor-life-magazine-taster/. This month's taster is a wonderful article by art historian Melanie V Taylor to commemorate the anniversary of the death of Levina Teerlinc, the first woman to be appointed as an official artist to a European court.
Tudor Society membership has lots of perks – a monthly magazine dedicated to Tudor history and edited by historian Gareth Russell, a monthly expert talk and live chat, weekly quizzes, weekly "Claire Chats" videos, primary sources and resources, forum and regular articles. Coming in September – free Tudor monarch e-books for members too! You will also have full access to the archives – 99 quizzes, 23 expert talks, 93 Claire Chats videos (talks on Tudor history by me, Claire Ridgway), 88+ hours of video, 23 magazines and over 800 articles so far with more being added every week – which will keep you busy for ever! Phew!