The Queen's Diamond Jubilee
Posted By Claire on February 6, 2012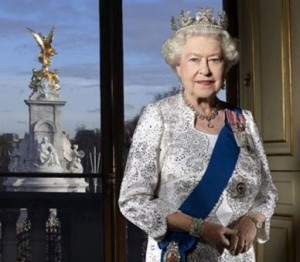 As a very proud British citizen, I just want to draw attention to the fact that today marks Queen Elizabeth II's diamond jubilee, the 60th anniversary of her accession. On this day in 1952, Princess Elizabeth was told by her husband that her father, King George VI, had died and that she was Queen Elizabeth II. It was obviously a terribly sad day for the 25 year old but she had to put grief to one side, she was now the monarch.
Fast forward 60 years and the Queen, who is now in her 80s, is still following a busy schedule, a schedule which many of us younger people (am I young??) would find exhausting. Whatever you think about the British monarchy, she does an amazing job and Christmas Day just wouldn't be the same for me without the Queen's speech.
The BBC News website has a video of the report from 1952 of her accession – When Princess found out King had died – and the official website of the British Monarchy has the Queen's official Diamond Jubilee photos, her jubilee message and lots more, see http://www.royal.gov.uk/
There is also a special Diamond Jubilee website – see http://www.thediamondjubilee.org/ and there is a selection of royal videos on the British monarchy YouTube channel – http://www.youtube.com/user/TheRoyalChannel. Have fun browsing!