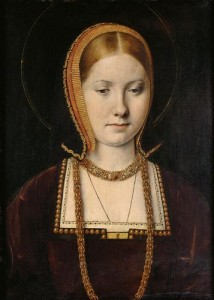 Thanks so much to Jenny in Madrid who noticed this snippet of Tudor news in an article on the 8 most expensive royal weddings.
Here is the list of "las bodas reales más caras" which includes a Tudor couple at number 6!
Prince Charles and Lady Diana Spencer – Although the actual cost of the wedding was never made public, Diana's engagement ring, which now belongs to Kate Middleton, cost £30,000 and the train of Diana's dress cost £9,000 at the time.
Al-Muhtadee Billah and Sarah Salleh – The wedding of the heir of the Sultan of Brunei in 2004 was said to have cost more than 3 million euros, around £2.7 million.
Princess Victoria of Sweden and Daniel Westling – This June 2010 wedding was said to have cost over 20 billion kronor, over £1.7 million.
Prince Pavlos of Greece and Marie-Chantal Miller – This 2005 wedding was said to have cost around a million pounds.
Grace Kelly and Prince Rainier – The cost of the wedding between Hollywood film star Grace Kelly and Prince Rainier of Monaco is not known but it included a luxury gala and one of the wedding gifts was a 45m yacht from Aristotle Onassis.
Prince Arthur and Catherine of Aragon – This wedding in 1501 between the son of Henry VII and the daughter of Ferdinand II of Aragon and Isabella I of Castile was luxurious. The bride and groom wore cloth of gold and there were two weeks of celebrations. Who knows what it all cost in today's money but it was super expensive!
Marie Antoinette and Louis XVI – This extravagant wedding in 1770 was followed by a reception for around 6,000 guests at the Palace of Versailles and a dance at the Paris Opera Theatre. As a wedding present, he groom built a luxurious annex for his bride at the Palace of Versailles.
John F Kennedy and Jacqueline Lee Bouvier – OK, so they're not really royals but this 1953 wedding was definitely royal in style. 800 guests attended the wedding which was followed by celebrations at a large beachfront estate. The wedding cake was over 4 feet high and Jackie's silk dress had a skirt made of over 50m of ruffles.
Source
Historian Suzannah Lipscomb has just replied to me on Twitter commenting "though if the National Archives converter is correct, Henry III's wedding in 1236 at £22,500 would cost £12m today." Wow!