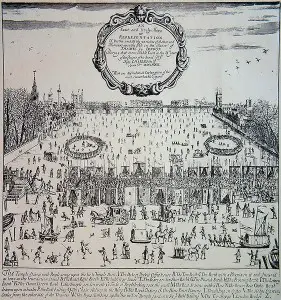 As I write this, the UK is suffering disruption caused by snow, ice and temperatures plummeting to a low of -19.6ºc, which is rather cold for the UK. These days, we have central heating, thermal undies, 4x4s, kettles, microwaves, microwavable slippers and even battery powered body warmers ( I want one!) but don't you feel sorry for the Tudors when England was gripped by "The Little Ice Age"?
Winters were so cold in Tudor and Elizabethan times that the River Thames in London froze over! During the winter of 1536, it is said that Henry VIII travelled from Central London to Greenwich Palace by sleigh actually on the ice on the Thames and in 1564 Elizabeth I ventured onto the frozen river to practise archery! In the winter of 1607/1608, during the reign of Elizabeth's successor, there was the very first frost fair on the Thames and these fairs took place throughout The Little Ice Age, with the last one taking place in 1814. The English writer, diarist and gardener, John Evelyn, described the famous 1683/1684 River Thames frost fair during the reign of King Charles II, a winter when the Thames was frozen from mid November to early February:-
"Coaches plied from Westminster to the Temple, and from several other stairs too and fro, as in the streets; sleds, sliding with skeetes, a bull-baiting, horse and coach races, puppet plays and interludes, cooks, tipling and other lewd places, so that it seemed to be a bacchanalian triumph, or carnival on the water."
And one eye witness described the river ice as being so thick "that a great street from the Temple to Southwark was built with shops, and all manner of things sold. Hackney coaches plied there as in the streets. There were also bull-baiting, and a great many shows and tricks to be seen."
Amazing, but also dangerous as the ice could thaw quickly as temperatures increased so people would have to move off it pretty quickly or risk being drowned or dying of hypothermia.
You can read more about The Little Ice Age and the Frost Fairs at the following links:-