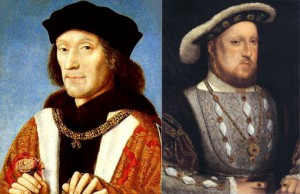 Yes, on this day in history, 21st April 1509*, King Henry VII died at Richmond Palace. He had been ill on and off since the spring of 1507 when it was feared that he would die of a severe throat infection1. In February 1508 Starkey writes of how he suffered from an acute rheumatic fever followed by "chronic fatigue, a loss of appetite and bouts of depression" in the summer of that year, and then he was taken ill again in February 1509. This time he was dying.
On the night of the 20th April, Henry VII, realising that death was near, summoned his confessor to administer the last rites. His confessor anointed very part of the King's body with holy oil, Henry heard the mass, kissed the crucifix and "with all his might and power, he called upon the name of Our Lord"2 but merciful death was to evade him for another 24 hours.
In his final hours, he called his son, Henry, to him and, according to Henry VIII, instructed him to fulfil the treaty between Spain and England by marrying Catherine of Aragon, although two member of Henry VII's council contradict this by reporting that the King told his son that he was "free to marry whom he chose"3.
At 11pm on Saturday 21st April 1509 King Henry VII died. His death was kept secret for two days and then his son was proclaimed King Henry VIII on the morning of Tuesday 24th April at London. It was the start of a new era. The old tight-fisted King had been replaced by a young, handsome, fun-loving Renaissance prince; who could have known what was ahead!
Sources
Henry: Virtuous Prince, David Starkey, p235
J.E.B.Mayor, ed., The English Works of John Fisher, quoted in Starkey, p252
Starkey, p253
*Interestingly, some sources say that Henry VII died on 22nd April while others say the 21st. Out of the books on my desk, David Starkey and Suzannah Lipscomb say the 21st, David Loades says 22nd and J J Scarisbrick says that Henry VII "lay dead" on the 22nd. Hmm…