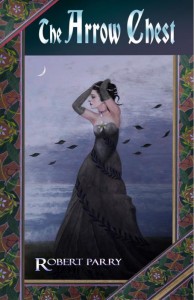 One of the best books I read last year was Robert Parry's "Virgin and the Crab", a truly magical novel about Elizabeth I and her friend and adviser, John Dee, so I was very excited when Robert told me about his new book "The Arrow Chest" which was released on the 4th January. I promise that I will publish a review of it as soon as I have read it.
The author, Robert Parry has kindly written the following article:-
The Arrow Chest
Thank you Claire for announcing the publication of my new novel today.
When scholars write about history, they naturally stick to describing people and facts, the skeletons of the past – with perhaps just the occasional bout of healthy speculation thrown in to flesh out the bones. The author of fiction, though, has the pleasure of not only fleshing out the bones, but the luxury of clothing the figures of history and animating them with thoughts, as well – a process which, I must say, is always very exciting.
When I wrote my debut novel 'Virgin and the Crab' which dealt with the turbulent decade of the 1550's shortly after the death of Henry VIII there was no doubt in my mind that I wanted to take the reader right there, to parachute them down into the thick of all the action. When writing The Arrow Chest, however, which was inspired by the early years of the 1530's and the England of Queen Anne Boleyn, I realised that it would be far better to shift the whole story forward in time, to a place just a little nearer to home, and closer to our own times, namely the wonderful, extravagant and gorgeous era known as Victorian Gothic – which flourished in England for much of the 19th century.
Why? Because to attempt to describe the events way back in Tudor England and of that most enigmatic of English Queens, who has been virtually airbrushed out of history by her contemporaries, would involve far more fleshing out of the bones than I thought would be at all good for anyone. We know very little about Anne Boleyn, the woman – the best efforts of our historians notwithstanding – not even with any certainty the year in which she was born! We know next to nothing about what really took place between her and King Henry during those extraordinary years – the internal politics and chemistry of their courtship and marriage. And we know even less about the relationship between Anne and Sir Thomas Wyatt – a man Henry considered to be his rival in love.
The solution was to fast-forward the story to Victorian England – a place where we can perhaps just make a little more sense of it all. Not so bizarre as it sounds. The 19th century had its own crisis in spiritual belief (Darwinian evolution versus Christianity) similar to the Reformation of the Church in Tudor England. It had a number of very powerful men at large, just as there was at the Tudor Court. And it had the wonderful poets and painters of the Pre-Raphaelite movement, too. Finally, in Victorian England there was a culture of idealised womanhood and motherhood, a perfect metaphor for the idealised romantic notions that Henry perhaps once entertained for his Queen but which quickly soured – as many unrealistic, idealised relationships often do, of course. It seemed to me the ideal environment, therefore, in which to explore what might well be one of the most fascinating love-triangles of all time – and also, of course, an opportunity to address some fascinating questions:
Why, after the chase was over, and after so many years of steadfast courtship, did king Henry come to hate his wife so much that he took the then unprecedented step of having her executed – on what most historians regard as trumped up charges?
Why was her friend and possible childhood sweetheart Thomas Wyatt (whose poetry often draws upon the symbolism of hunting with arrows or of the love-God cupid and his bow) imprisoned in The Tower at the time of Anne's detention and execution, but never charged and then subsequently released a few days later?

<

Why at the time of Anne's coronation procession through London, was Hans Holbein commissioned to present a tableau in which Henry VIII was depicted as the poet and archer-God Apollo surrounded by the Muses?
And finally, the greatest puzzle of all to many of us: just why was Anne buried in that Arrow Chest?
My novel begins in 1876, the year in which her remains came to light during a renovation of the Chapel of St Peters ad Vincula in the Tower of London. It is a Tudor story – only moved forward a few centuries in time.
The Arrow Chest is Available NOW!
Here are the details:-
Title: THE ARROW CHEST
Author: Robert Parry
Genre: Historical Fiction, Historical literary, Victorian Gothic
ISBN-10: 1452801142
ISBN-13: 978-1452801148
342 pages
Publication date 4th January 2011
Available in Paperback on Amazon.com for $11.95 – click here – and also on Kindle.
Synopsis
London, 1876. The painter Amos Roselli is in love with his life-long friend and model, the beautiful Daphne – and she with him – until one day she is discovered by another man, a powerful and wealthy industrialist. What will happen when Daphne realizes she has sacrificed her happiness to a loveless marriage? What will happen when the artist realizes he has lost his most cherished source of inspiration? And how will they negotiate the ever-increasing frequency of strange and bizarre events that seem to be driving them inexorably towards self-destruction. Here, amid the extravagant Neo-Gothic culture of Victorian England, the iconic poem 'The Lady of Shalott' blends with mysterious and ghostly glimpses of Tudor history. Romantic, atmospheric and deeply dark.
Here is the video trailer to whet your appetite even more!