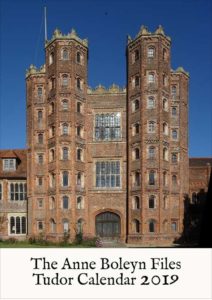 Enjoy the winning photos from our annual Anne Boleyn Files calendar competition in the stunning 2019 wall calendar which is available now.
This unique calendar contains beautiful full-colour photos of Thornbury Castle and its grounds, Burghley House, Little Moreton Hall, Ewhurst Place, Hampton Court Palace, Layer Marney Tower, Acton Court, Dorney Court, Carew Castle and Hever Castle, all taken by Anne Boleyn Files followers. The calendar also has information about the births, deaths and important battles that took place during the Tudor period.
This high-quality wall calendar measures 297mm (12¾ inches) by 420mm (16½ inches), it is spiral bound at the top and is printed on thick 100# stock paper. Full colour throughout. 1 full page per month.
As well as enjoying this calendar yourself, why not get one for your Tudor-loving friends too?
The calendar costs $9.00/€7.99/£7.20 and can be shipped worldwide.
It is shipped directly from the Anne Boleyn Files base in Spain. Shipping to the UK is £5.80, within Europe is €6.50, and to the US and Rest of the World is $11.99. Each additional calendar ordered (to the same address) only adds $2/£2.00/€2 additional shipping for every calendar ordered.
SOLD OUT NOW
The calendar contains the following photos:
January – Thornbury Castle by Cheryl Lewis Altfeder
February – Burghley House by Thomas Flint
March – Little Moreton Hall by Alison Ratcliffe
April – Ewhurst Place by Ian Mulcahy
May – Hampton Court Palace by Kristen Fitts
June – Layer Marney Tower by Susan Stephens (WINNER – also on the cover)
July – Thornbury Castle grounds by JoAnn DellaNeva
August – Acton Court by Lori Pittaro
September – Dorney Court by JoAnn DellaNeva
October – Carew Castle by Ceri Creffield
November – Hever Castle by Jemma Robertson
December – Hampton Court Palace by Ian Rotondi
Back cover – Hever Castle by James Mewborn
Congratulations to Susan Stephen who is the overall winner with her gorgeous photo of Layer Marney Tower. She wins a $50 Amazon gift certificate (or equivalent). The runner-up prize of a $25 Amazon gift certificate goes to JoAnn DellaNeva for her lovely photo of Dorney Court. Congratulations also to Cheryl, Thomas, Alison, Ian, Kristen, Lori, Ceri, Jemma, Ian and James for their photos, they will each receive a copy of the calendar. Thank you also to all those who entered, the panel of judges had such a hard time choosing!
Here is a video of Claire showing the calendar 'in the flesh'!
Here is a video showing the different pages of the calendar or you can view them in the gallery of photos below: