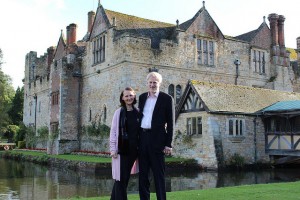 Here's Tim's diary entry for day two of the tour…
Well, after an amazing breakfast we started our full day at Hever Castle with a private tour around the castle. Our guide was very knowledgeable and it was great to spend some time looking at the wonderful portrait collection here. After that, I took a group to St. Peter's church, where we spent time in this peaceful parish church looking at the graves of Thomas Boleyn and the small cross of Henry Boleyn (one of Anne's brothers who died as a child). The church is wonderful.
After a tasty lunch we each went our own ways to enjoy the grounds and castle here before meeting up again at 5pm to hear John Guy and Julia Fox "In Conversation" about the fall of Anne Boleyn. John and Julia are such Tudor experts and were able to quickly cover the ground about the various theories regarding Anne's fall, and Jane Boleyn's alleged role. Fascinating.
Our evening banquet meal was a starter of salmon, followed by guinea fowl with char-grilled asparagus and the dessert was a lemon tart (all delicious). It was great that John and Julia could stay with us through the meal, and many questions were asked and answered.
Some of us then headed on to the "Henry VIII" pub for a drink. It's a fun local pub and we had a great time.
Time for bed now as tomorrow we are off to Hampton Court Palace.
Photos from today can be found at: