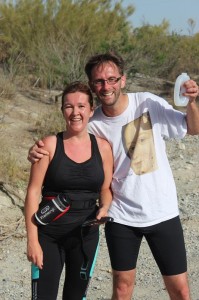 Thank you so much to everyone who sponsored us for the 10km run we did on 7th June. We raised £489 (including Gift Aid) for the Sunshine Rehabilitation Centre in Kenya. The charity Rope sent us the following thank you letter, which I wanted to share with you, and also an update on the project – click here to read the update.
You can still donate to the project at http://uk.virginmoneygiving.com/ClaireRidgway
A big thank you to you all.
Dear Tim & Claire
I am writing to thank you for completing your 10K a couple of weeks ago and raising £489.00 for Rope, specifically for the Sunshine Rehabilitation Centre in Kenya.
It was so great to receive photos of your race, especially the one of you crossing the finish line, which has been on our website. It looked quite a hot day, so a sterling effort by you both!
Thank you so much for this support and for using your own website to promote Rope and the work we do.
We have recently been in contact with Simon and Rebecca Kinyanjui, both Kenyans, who run the project. Simon has overall responsibility for the centre and Rebecca, a trained social worker, is specifically responsible for endeavouring to link the boys back to their families. Quite a challenging task, but one that does bear fruit. Sunshine Rehabilitation Centre is now celebrating its 10th birthday, so it is extra special that you chose to support the project this year. We have attached a short recent report about the home, which we hope you find interesting.
Thank you once again, from all of us at Rope, for your amazing achievement and your continued support.
With very kind regards
Wendy Reynolds
Administration Manager
Rope – Taking Action, Changing Lives
01494 433170 / www.rope.org.uk