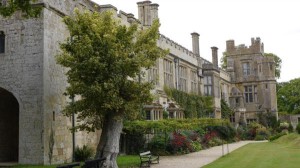 Sudeley Castle, situated in the Cotswolds, near Winchcombe, Gloucestershire, is a must-see for Tudor history enthusiasts with its beautiful gardens, its history, which spans over a thousand years; its 16th century west wing and its church, which is the resting place of Catherine Parr, sixth wife of King Henry VIII.
Sudeley Castle was Crown property during the reigns of Henry VII and Henry VIII and was visited by Henry VIII and Anne Boleyn on their progress of 1535. When Edward VI inherited it after his father's death in 1547, he gave it to Thomas Seymour, his uncle, making Seymour 1st Baron Seymour of Sudeley. Seymour began renovation work on the castle after his marriage to Catherine Parr, Dowager Queen, and the couple used the property during Catherine's pregnancy in 1548.
It was at Sudeley that Catherine Parr gave birth to their child, Mary, and then died after contracting puerperal, or childbed, fever. Catherine was buried in the castle's chapel but her resting place was lost when the English Civil War caused the chapel to be left in ruins. Her grave was discovered in the 18th century and then she was eventually re-interred in 1817 in a marble tomb, complete with effigy, in St Mary's Chapel.
Lady Jane Grey, who was a ward of Thomas Seymour, and Lady Elizabeth Tudor, the future Elizabeth I and Catherine's stepdaughter, visited the castle while the Seymours lived there and Elizabeth returned to the property as Queen Elizabeth I in 1592 when she was invited to a 3-day feast there to celebrate the anniversary of England's victory over the Spanish Armada.
Enjoy this slideshow of photos taken of the Castle, grounds and Chapel by Felicity Boardman:-
[slideshow id=441 w=300 h=400]
Things to See and Do at Sudeley
The Gardens – Sudeley has 9 gardens: The Ruins Garden with its Banqueting Hall ruins, the oriental East Garden, the Knot Garden whose design is based on a pattern from one of Elizabeth I's dresses, the Mulberry Garden, the Queen's Garden which is named after the four queens who would have walked there (Anne Boleyn, Catherine Parr, Lady Jane Grey and Elizabeth I), the Secret Garden, the Tithe Barn Garden which features the 15th century Tithe Barn ruins, the Tudor Physic Garden and Herb Garden Walk with its healing herbs, the White Garden which lies alongside the Chapel and which marks the area where Catherine Parr and Lady Jane Grey would have entered the church for their daily prayers, and the Pheasantry with its rare breeds.
St Mary's Church – See the marble tomb of Catherine Parr
Six Wives at Sudeley Castle – An exhibition of the replica Tudor costumes worn in David Starkey's "The Six Wives of Henry VIII " TV series.
Henry VIII: Romance and Intrigue – An exhibition of Tudor artefacts and murals which aim to bring to life Henry VIII and Anne Boleyn's stay at the castle in 1535.
Katherine Parr's Keepsakes – An exhibition of artefacts linked to Catherine Parr, including locks of her hair, one of her teeth and a love letter written by her to Thomas Seymour.
Connoisseur's Tours – These special tours of the private apartments of the castle, which are lived in by the family, can be booked online.
Enjoy this slideshow of photos taken of the six wives costumes at Sudeley. Photos taken by Felicity Boardman:-
[slideshow id=442 w=300 h=400]
Thanks so much to Felicity for sharing her wonderful photos of Sudeley Castle. Felicity was one of the winners in our Tudor Places Calendar Competition with her lovely photo of Coughton Court. Sudeley Castle ruins are also featured in our calendar in a photo by Laurie Melton.
For further information on visiting Sudeley Castle, see http://www.sudeleycastle.co.uk/home