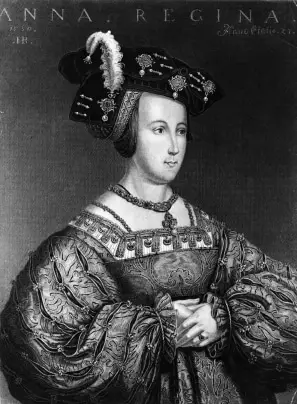 This poem is Part 11 in Esther Hyams' wonderful series of poems telling the life story of Anne Boleyn. Please check out Esther's other poems and leave Esther a comment to encourage her!
Anne Boleyn by Bartolozzi
The Lady Marquess of Pembroke
The King wanted Anne to have a proper rank of her own
As they prepared to go to France, a status for her alone.
At the expense of the Privy Purse, on 1st September, 1532
Lady Rochford, would now be made the Marquess of Pembroke too.
An elegant Anne was dressed in ceremonial robes of silk trimmed with fur
Around her elegant neck were jewels that would sparkle and allure.
Regal and bold, the Lady Anne walked into the grand, royal hall
Despite the scowls or how many of the peers wished her downfall.
No matter who disapproved, standing loathingly at the helm
Anne was becoming the most prestigious non royal woman in the realm.
Anne's dark eyes dazzled and sparkled with such power
The elegant bud was blossoming into a potent flower.
The peers of England watched as a girl once so obscure
Was given such royal favour and a title of her own, so pure.
Then King Henry placed the crown of the title on Anne's dark head
Such a powerful moment that filled many with such dread.
No matter all that happened to England, despite everyone's distress
Anne Boleyn would now be known as the Lady Marquess.
By Esther Hyams
Click here to read the next poem, "Duels and Jewels".