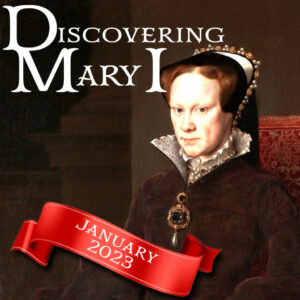 I know from comments on my "Becoming Elizabeth" videos and social media that many people, myself included, thought that the recent Starz series, "Becoming Elizabeth", was actually more about "Becoming Mary".
I thoroughly enjoyed this look at the pre-accession Mary – and Mary definitely stole the show for me. It is so disappointing that there's not going to be a second season.
Fear not, though! I have planned an online event which is going to flesh out Mary properly and get behind the very two-dimensional view we have of her as "Bloody Mary". There is so much more to Mary than the persecutions of her reign. She is a fascinating character.
Join me and 7 other experts in 12 days of online talks and Q&A sessions (plus zoom chats) exploring the life and reign of Mary I, England's first official queen regnant. The event starts properly in January (16-27th), but we had so much fun with zoom calls leading up to my recent Elizabeth I event that I thought I'd hold twice-a-month zoom discussion leading up to this event. We have our first this Saturday, 15th October at 10pm UK/5pm New York.
You can register right now, and see all the details, by clicking here. I am limiting spaces due to the zoom calls and to allow easier interaction with the Q&A sessions, so do sign up as soon as you can.
I hope you can join us!