On This Day in Tudor History – Coming Soon!
Posted By Claire on October 12, 2012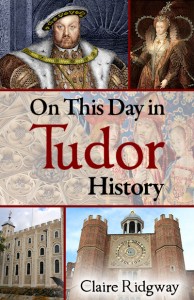 Just a quick post to let you know that my next book, On This Day in Tudor History, will be released next month just in time to give as a Christmas present to the Tudor history lovers in your life.
It's been quite a project as it's over 180,000 words and that's a lot of edits to go through from your copy editor, believe me! But I've loved every single minute of it and I'm glad it's finally done – been a long time in the making.
I will, of course, post here as soon as it's available to purchase.
What is it?
It's an "on this day in history" book which focuses on the Tudor era. It takes readers through the year, giving a day-by-day look at events which include births, deaths, baptisms, marriages, battles, arrests, executions and more. Most days have an article about the key event of that day and there is also information on Tudor feast days and traditions.
Hope you like the sound of it!