October's Webinar – The Real Boleyns Part 2: Mary Boleyn
Posted By Claire on September 24, 2011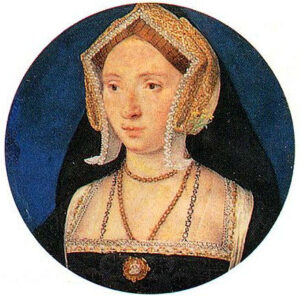 As you will know, on Thursday I held the very first Anne Boleyn Fellowship webinar. This webinar was the first in a series on the REAL Boleyns, examining George and Jane Boleyn and the myths that surround them versus the evidence from the primary sources. I thoroughly enjoyed the webinar and have had some wonderful feedback from those who listened live and those who've caught up with it on the replay. Thank you!
I've had a few people contact me to ask what a webinar is, well, it's an online seminar. You can listen to my talk on the phone or via Skype, but if you visit the special webinar webpage then you can view my slide presentation, listen to me and type in questions. It works brilliantly.
In October's webinar, I will be looking at the various representations of Mary Boleyn and attempting to debunk the myths that surround her. Was she really "the great and infamous whore"? Did she give birth to the King's children? Was she a woman who followed her heart? How did she escape the events of 1536? What was her relationship with her family like?… I hope you can join me.
Webinar Details
EVENT: The Real Boleyns Part 2 – Mary Boleyn
DATE & TIME: Thursday, October 27th 2011 at 8pm Eastern time
Click here for a time zone converter
LISTENING METHOD: Attend via Phone/Skype or Webcast — it's your choice. Listening online will also allow you to see the slideshow.
WHO CAN PARTICIPATE?: Anne Boleyn Fellowship members. If you're not a member, you can join at members.theanneboleynfiles.com
Can't Make It?
Don't worry if you can't make it, there will be a replay available so that you can listen to it at a time that's convenient to you.
The webinars aren't the only benefit to joining the Anne Boleyn Fellowship: The Order of the Falcon. Members also have access to my research, exclusive audios and videos, downloadable e-books, a chatroom and much more. I'm also working on the Fellowship e-zine at the moment. Phew!