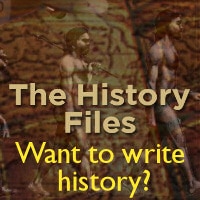 Today's big news is that our new community website The History Files – www.thehistoryfiles.com – has just gone live! I'm so excited about this new project and I'm bowled over by the reaction and support. I've had 47 emails so far from people interesting in contributing!
The History Files has 4 main aims:-
1. To give writers, students, researchers, historians and history buffs the opportunity to have their work published and out there for the world to see and learn from
2. To give contributors the opportunity to promote themselves, their websites or blogs, and their work through their bio page
3. To build a community of like-minded people who are passionate about history and who are committed to debunking myths and promoting 'good' history
4. To educate visitors about a whole range of historical periods and people
We already have two articles on there – one on Christina of Markyate and one on Edward II – and I'll be adding more as people contribute. Thanks so much to Andrea and Kathryn for getting their articles to me so quickly.
By the way, regular contributors will get their own log-ins to the website so that they can post their own articles and update their profiles/bios.
You can find out more about contributing to The History Files at our Join Us page or you can email me at claire@theanneboleynfiles.com