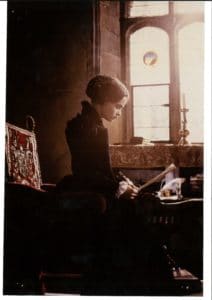 Hever Castle, the family home of the Boleyn family, has just let me know about their new exhibition which starts on 13th May – Lights, camera, action: Hever Castle on Stage and Screen.
I'm very excited as I'm there with the Anne Boleyn Experience Tour while the exhibition is on – great timing!
The temporary exhibition will give visitors to the castle the chance to see posters and costumes from films that the castle has appeared in. I can't wait to see two dresses from my favourite Anne Boleyn film, "Anne of the Thousand Days", which celebrates its 50th anniversary this year.
Then there's a sword dredged from the moat after Tom Baker dropped it during filming of "The Passionate Pilgrim" (1984), which also starred Eric Morecambe. The sword was found twenty-seven years later when the moat was drained. It will be displayed for the first time at Hever as part of this exhibition.
The story of the mysterious 'La Peregrina Pearl' will be available for visitors to explore as part of the exhibition. As you probably know, this $11 million dollar pearl was bought by actor Richard Burton for Elizabeth Taylor during their first marriage and it was seen on screen for the first time at Hever Castle when Taylor played a cameo role in the 1969 film "Anne of the Thousand Days". Taylor had wanted to play Anne Boleyn to Burton's Henry VIII, but was rejected and the role went to Genevieve Bujold. During its visit to Hever, the pearl was briefly reunited with two Hever portraits which depict it being worn on the queens who once owned it: Mary I and Elizabeth de Valois.
Photographs from an opera about Thomas Boleyn, father of Queen Anne Boleyn, performed in 1972 by the Astors, the previous owners of Hever Castle, will also be on display, along with images from some of the TV programmes that the castle has appeared in.
Lights, camera, action: Hever Castle on Stage and Screen opens on 13th May 2019 and will run until November 2019. Visitors can find it in the Castle's Moat Room, which isn't usually open to the public, and it is included as part of the Castle and Garden admission.
Admission Prices:
Castle & Gardens: Adults £17.75; Seniors/Students £15.60; Children (5-17) £9.95 (under 5's free); Family ticket £46.85 (2 adults & 2 children or 1 adult & 3 children).
Gardens open at 10.30am; Castle opens at 12 noon.
Last admission 4.30pm; final exit 6pm.
For further information please visit the website: hevercastle.co.uk or call Hever Castle on 01732 865224.
Picture: Helena Bonham Carter in Hever Castle Dining Room – "Lady Jane", photo from Hever Castle and Gardens.