My Favourite Monastic Ruins and a Giveaway too!
Posted By Claire on December 2, 2015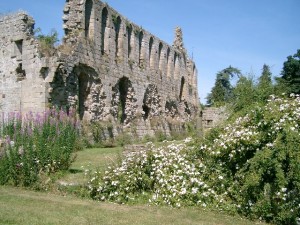 On the third stop of my book tour for Tudor Places of Great Britain I'm over at historian Gareth Russell's blog Confessions of a Ci-devant discussing my favourite monastic ruins, the abbeys of Fountains, Jervaulx and Rievaulx which were all dissolved during Henry VIII's reign. Simply click here to read my article and don't forget to leave a comment there to enter the giveaway.
I do hope you can join me on the tour and don't forget that there's a giveaway of a copy of Tudor Places of Great Britain at every stop.
Image: Jervaulx Abbey, © Copyright Mike and Kirsty Grundy and licensed for reuse under this Creative Commons Licence.