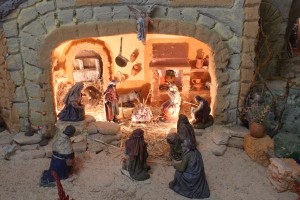 For unto you is born this day in the city of David a Saviour, which is Christ the Lord.
And this shall be a sign unto you; Ye shall find the babe wrapped in swaddling clothes, lying in a manger.
And suddenly there was with the angel a multitude of the heavenly host praising God, and saying,
Glory to God in the highest, and on earth peace, good will toward men.
(Luke 2:11-14, King James version)
I just wanted to take this opportunity to wish you all a very Merry Christmas. I hope that you have a truly magical Christmas. Don't forget to click on the Advent Calendar to enjoy the last treat.
I hope you like this photo. Tim took it when we did our annual visit to the Belén (Nativity scene) at Macael, a town just a few miles from us.