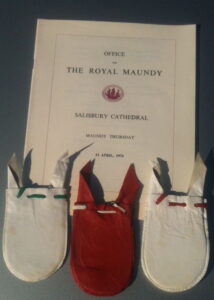 Today is Maundy Thursday or Holy Thursday. On this day, Christians remember the Last Supper, where Jesus Christ enjoyed his final meal with his disciples, and where he washed their feet.
On Maundy Thursday, Christ's act of washing his disciples' feet was re-enacted from at least 13th century by the pope, who would wash the feet of twelve of his subdeacons, and it is something that is still carried out today. Today, Pope Francis will celebrate Maundy Thursday Mass at Casal del Marmo, a juvenile prison, where he will also wash the feet of inmates.
It is also something that is remembered by today's royal family in the UK. King Charles III and Queen Camilla will be attending the Maundy Thursday service at York Minster today and then the king will present 74 men and 74 women with Maundy Money – two purses, one red and one white, containing special silver Maundy coins (74 of them) and special commemorative coins. 74 is, of course, the king's age. There is no foot-washing, however.
The Royal Maundy dates back to the reign of King Edward II, when the king would wash the feet of poor people and give alms known as Maundy Money. It was something that the Tudor monarchs and their consorts did too, and on Maundy Thursday 1536, 13th April, Anne Boleyn took part in her very last Maundy Thursday service, where she gave Maundy money and washed the feet of poor people.
Records show that the queen gave "31 l. 3s. 9 ½d." in Maundy money that year, and William Latymer, Anne Boleyn's chaplain, and martyrologist John Foxe both wrote of how the amount in the royal Maundy purses distributed to the poor increased significantly when Anne Boleyn was queen. Anne was passionate about poor relief, feeling that it was her responsibility to do something for social welfare, both as a queen and a Christian. William Latymer wrote of how one Maundy Thursday, Anne, after washing and kissing the feet of poor women, "commanded to be put privily [privately] into every poor woman's purse one george noble, the which was vi.s viii d. [6 shillings and 8 pence], over and besides the alms that wonted to be given."
You can read more about Anne Boleyn's passion for poor relief and charity in my article Anne Boleyn and Charity.