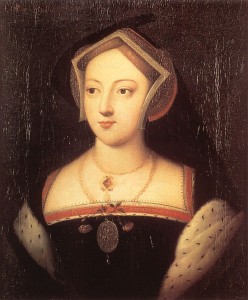 I'm delighted to welcome Sarah Bryson to The Anne Boleyn Files on day 3 of her book tour for Mary Boleyn: In a Nutshell. Today, Sarah shares her thoughts on Mary Boleyn's appearance.
To be in with a chance of winning a paperback copy of Sarah's book on Mary Boleyn, all you need to do is leave a comment below saying what you imagine Mary Boleyn to look like. Leave your comment before midnight on 22 April. A winner will be picked at random and contacted shortly after – good luck!
Over to Sarah…
Mary Boleyn was the oldest daughter of Thomas Boleyn and Elizabeth Howard, and sister to Anne Boleyn, the second wife of Henry VIII. Mary Boleyn was the older sister, being born in around 1500 at Blickling Hall, Norfolk. Sometime after this, Thomas Boleyn moved his family to Hever Castle and it was here that Mary spent her early years. Nowadays 'Hever Castle, once the home of that great figure in Tudor history, Anne Boleyn, now has one of the best collections of Tudor portraits after The National Portrait Gallery' (Starkey 2011). One of these magnificent portraits is said to be of Mary Boleyn.
Josephine Wilkinson, author of Mary Boleyn The True Story of Henry VIII's Favourite Mistress doubts that the Hever Castle portrait is of Mary Boleyn and states that 'tradition has it that Mary Boleyn was the most beautiful of the Boleyn sisters. Even she, however, did not conform to the Tudor ideal of feminine beauty, which preferred pale skin, blue eyes and blonde hair. One portrait of Mary, although it is of doubtful authenticity shows her to have a rounder and softer face than that of her sister. Her complexion is creamy, her eyes brown and, although her hair is hidden beneath her gabled hood, its colour is suggested by the shade of her eyebrows, which hint at a rich auburn or a chestnut brown.' (Wilkinson p. 64).
The above image is the portrait from Hever Castle to which Wilkinson is referring. It is labelled as a portrait of Mary Boleyn painted after the Holbein style. Alison Weir, in her book Mary Boleyn The Mistress of Kings, also doubts the authenticity of this portrait as Mary Boleyn and proposes instead that it may be of Frances Brandon, daughter of Charles Brandon, Duke of Suffolk, and his wife Mary Tudor, Dowager Queen of France.
As well as the Hever Castle portrait of Mary Boleyn I wanted to make a note of another portrait that has often been credited as being Anne Boleyn but when studied further may perhaps have more resemblance to Mary Boleyn than her more famous sister. This portrait was painted by Lucas Horenbout and will be described in more detail below.
Horenbout was a Flemish artist who studied his skill in painting under his father Gerard Horenbout. He moved to England sometime during the mid 1520's and in September 1525 Horenbout is mentioned in Henry VIII's royal accounts where he is referred to as a 'pictor maker'. By 1531 he was being described as the King's Painter and was very well paid for his paintings. Horenbout is best known for his intricate and beautifully detailed portrait miniatures.
One of Horenbout's miniatures is of a woman painted in about 1525/26. Initially the young woman in the portrait, whose age is given as twenty five years, was believed to be Anne Boleyn, Henry VIII's second wife. Yet there is now some debate now as to whether the woman in the portrait is actually Anne. It has been proposed that in fact it may be Mary Boleyn. Francesco Sanuto, a Venetian diplomat described Anne as 'not one of the handsomest women in the world; she is of middling stature, swarthy complexion, long neck, wide mouth, bosom not much raised, and in fact has nothing but the English King's great appetite, and her eyes, which are black and beautiful' (Calendar of State Papers Relating To English Affairs in the Archives of Venice October 1532, 824). In her book The Lady in the Tower, Alison Weir also describes Anne as being 'slender and dark' (Weir 2009, p. 160), whereas the woman in the Horenbout portrait appears to have a much rounder face and has a pale complexion with perhaps light brown eyebrows and possibly the same coloured hair.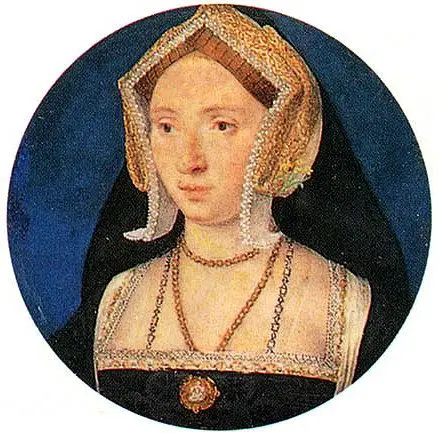 Alison Weir, in her book Henry VIII King & Court argues that the above portrait by Horenbout cannot be of Anne Boleyn as 'even allowing for traces of repainting, the sitter, with her fair hair, round face, short chin and full lips, bears little resemblance to Anne Boleyn as she appears in the National Portrait Gallery portrait. Secondly, her age is given as twenty-five. If this is Anne, and she was born around 1501 (a date now accepted by most historians), then the miniature was painted around 1526/27, when her role was little more than that of the King's low-profile inamorata, which hardly qualified her to be one of the fashionable Horenbout's first sitters. Thirdly, Anne did not adopt her crowned falcon badge until 1533, and the bird on her badge was rising to the right with wings elevated, while this bird is displayed apparently with wings inverted. Whoever this miniature depicts – and that still remains a mystery – it was not Anne.'(Weir p. 264 – 265).
The ideal Tudor woman was pale of skin with blue eyes and blonde hair and it is possible that those who did not conform to this traditional image had their features, such as hair and complexion lightened. However, it is known that Anne Boleyn was immensely proud of her long dark hair. Even if Horenbout did lighten the skin colour in the above portrait, the eyebrows seem far too light to be the dark hair Anne Boleyn was known to have. Also, Anne is said to have been slender, yet the woman in this portrait has a hint of a double chin and certainly rounder cheekbones.
In Roland Hui's article "A Reassessment of Queen Anne Boleyn's Portraiture", Hui also argues that the Horenbout portrait does not resemble the image of Anne Boleyn presented at the National Portrait Gallery in London. Hui states that the National Portrait Gallery portrait of Anne Boleyn shows a woman with a long face and high cheekbones whereas the lady in the Horenbout portrait has broader features and a double chin. He also states that it was recorded that the lady in the portrait was twenty five years of age when her portrait was painted. Since Mary Boleyn was born in 1500 and the painting was painted in 1525/26 Mary's age would fit the age of the woman in the miniature perfectly. Hui also proposes that it could have been Sir Thomas Boleyn who introduced the painter to the English court and that he may have commissioned Horenbout to paint his daughter.
Unfortunately unless a third portrait miraculously appears and is able to be accurately identified as Mary Boleyn, we may never truly know what this mysterious woman actually looked like. Yet when the evidence is examined I am led to believe that the Horenbout miniature of a young woman is indeed the real face of Mary Boleyn. A face which I think is indeed beautiful enough to capture the attention of the great Henry VIII.
Use this schedule to catch up with Sarah's other stops on her book tour: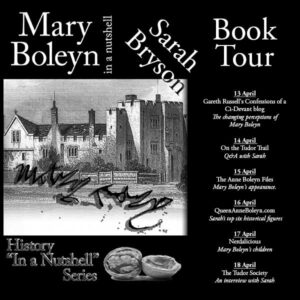 Book Details
"MadeGlobal's History in a Nutshell Series aims to give readers a good grounding in a historical topic in a concise, easily digestible and accessible way.
In Mary Boleyn in a Nutshell, Sarah Bryson discusses the controversies surrounding Mary Boleyn's birth, her alleged relationships with two kings, her portraiture and appearance, and her life and death. Mary survived the brutal events of 1536 and was able to make her own choices, defying the social rules of her times by marrying for love. It is from Mary that the Boleyn bloodline extends to the present day.
Sarah Bryson, creator of the popular "Anne Boleyn: From Queen to History" Facebook page, brings together what is known about Mary Boleyn, the shadowy sister of Queen Anne Boleyn."
Kindle File Size: 7407 KB
Print Length: 82 pages
Publisher: MadeGlobal Publishing (Kindle: March 17, 2015, Paperback: March 18, 2015)
Language: English
ASIN (Kindle): B00UVBPAFS
ISBN-10: 8494372114
ISBN-13: 978-8494372117
Available from Amazon.com, Amazon UK and your usual bookstore.
Sources
Calendar of State Papers Relating To English Affairs in the Archives of Venice, Volume 4, 1527-1533. Originally published by Her Majesty's Stationery Office, London, 1871.
Fraser, Antonia (2002) The Six Wives of Henry VIII, Phoenix Press, London.
Hart, Kelly (2009) The Mistresses of Henry VIII, The History Press, Gloucestershire.
'Henry VIII: June 1534, 26-30,' in Letters and Papers, Foreign and Domestic, Henry VIII, Volume 7, 1534, ed. James Gairdner (London: Her Majesty's Stationery Office, 1883), 326-357, accessed March 2, 2015, http://www.british-history.ac.uk/letters-papers-hen8/vol7/pp326-357
Hever Castle (2001) 'Hever Castle & Gardens', viewed 13th August 2011, http://www.hevercastle.co.uk/.
Hui, Roland (2000) 'A Reassessment of Queen Anne Boleyn's Portraiture', viewed 21st March 2015, Available from Internet http://www.oocities.org/rolandhui_2000/ab_portraiture.htm.
Ives, Eric (2009) The Life and Death of Anne Boleyn, Blackwell Publishing, Oxford.
Lucas Horenbout (or Hornebolte) 2015, National Portrait Gallery, viewed 21st March 2015, http://www.npg.org.uk/collections/search/person/mp07130/lucas-horenbout-or-hornebolte?role=art.
The Royal Collection 2001, 'Lucas Horenbout (c. 1505-1544)', viewed 21st March 2015, Available from Internet http://www.royalcollection.org.uk/eGallery/maker.asp?maker=12115&display=about.
Weir, Alison (2011) Mary Boleyn The Mistress of Kings, Ballantine Books, New York.
Weir, Alison (2009) The Lady in The Tower The Fall of Anne Boleyn, Jonathan Cape, London.
Weir, Alison (2008) Henry VIII King & Court, Vintage Books, London.
Wilkinson, Josephine (2010) Mary Boleyn The True Story of Henry VIII's Favourite Mistress, Amberley Publishing, Gloucestershire.