Just 48 hours until doors close!
Posted By Claire on February 23, 2022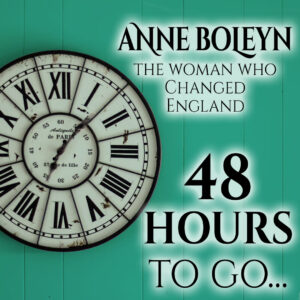 It's just 48 hours until doors close for registration for my online conference "Anne Boleyn, the Woman who Changed England" which is taking place from 28th February to 10th March 2022, with bonus debate taking place on 19th March.
Find out why Anne Boleyn was far from the social climber fiction so often makes her out to be by delving into her ancestry and family background.
Discover the true Anne Boleyn who arrived at the English court in 1522 and turned the heads of a courtier, poet and king.
Understand why this maid of honour was so very different to her contemporaries, what made her tick and how she was a true Renaissance woman.
I believe that it's only by looking at Anne Boleyn's background and her formative years, spent at two Renaissance courts, that we can truly understand her.
By the end of this week featuring daily talks and live Q&A sessions with these prominent historians and authors, you will have met a very new Anne and understand just why King Henry VIII changed the course of English history to be with her, and why they were such a powerful union.
What's included:
Detailed talks from Claire Ridgway, Gareth Russell, Dr Lauren Mackay, Dr Estelle Paranque, Dr Owen Emmerson, Kate McCaffrey, Sarah Morris, Natalie Grueninger, Natalia Richards and Rebecca Monet
11 live Q&A sessions with the featured historians
3 audio books by Claire Ridgway, including one that is due for release later this year
A unique souvenir paperback book "Anne Boleyn, the Woman who changed England", which will include transcripts of all the expert talks, shipped to your door AND available for download
BONUS – Live debate with Gareth Russell, Dr Owen Emmerson and Claire Ridgway on Anne Boleyn's birthdate
Replays of my masterclasses on Mary Boleyn and Who killed Anne Boleyn.
Everything can be enjoyed from the comfort of your own home, wherever you are in the world
This online event is for you if you've watched "Anne of the Thousand Days" over and over, read every book there is on Anne, relished every documentary, or you've just discovered Anne Boleyn and want to know more about her. Enjoy a truly unique experience with ten Anne Boleyn experts and other Anne Boleyn history buffs.
I'm particularly excited about the debate because Gareth has changed his mind about Anne Boleyn's birthdate and not from 1507 to 1501, but another date! I'm intrigued!
Please do join us!