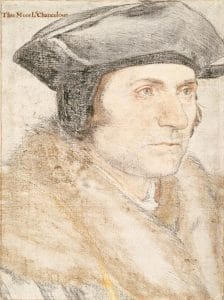 Most people know about Sir Thomas More's final letter to his beloved daughter, Margaret (Meg) Roper – click here – but he also wrote a letter in Latin, and again written in coal, to his dear friend Anthony Bonvyse (Bonvisi), a merchant. Here is the record, an English transcription of the letter, from Letters and Papers:
"Does not expect long to have liberty to write, and has therefore determined to declare by this letter how he is comforted by the sweetness of his friendship. Has been for almost forty years not a guest but a continual nursling in the house of Bonvyse, and in requital has not showed himself a friend, but a barren lover only. Comforts himself with the thought that he never had occasion to do him pleasure; for such was always his great wealth, that there was nothing left in which More might be beneficial to him. Few men so fawn upon their fortunate friends as Bonvyse favors and honors him, now overthrown and in prison. Such friendship is not one of the brittle gifts of fortune, but a high and noble gift, proceeding from a singular benignity of God. Considers that it was ordained by the great mercy of God that such a friend should be long before provided to assuage a great part of these troubles. Prays God to requite this bountifulness to him, his dear friend, and of all mortal men the dearest to him, and to bring them from this wretched and stormy world to His rest, where shall need no letters, where no wall shall dissever them, where no porter shall keep them from talking together.
Bids him farewell, the most trusty of all his friends, and, as he was wont to call him, the apple of his eye.
"Thos. More, I should in vain put to it 'Yours,' for thereof can you not "be ignorant, since you have bought it with so many benefits. Nor now "I am not such a one that it forceth whose I am.""
It is clear that the two men were very close friends and I find it a moving letter, written by a man who knew he was to die soon.
Notes and Sources
Letters and Papers, Foreign and Domestic, Henry VIII, Volume 8, January-July 1535, 987.