It's a Boy! – A Royal Baby is Born
Posted By Claire on July 23, 2013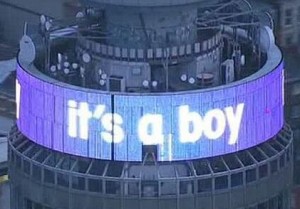 At 4.24pm on 22nd July 2013, the Duchess of Cambridge gave birth to an 8lb 6oz baby boy in the Lindo Wing of St Mary's Hospital, Paddington, London. This little boy is third in line to the throne, so it's big news for those in the UK and, in fact, is news being celebrated all over the world – everyone likes a royal baby!
Why am I posting this news on here, a Tudor website?
Well, obviously there are those who will think I should stick to Tudor history and who really don't want to know about a royal baby (sorry!), but there is actually a Tudor link. This little boy is a descendent of Mary Boleyn, sister of Queen Anne Boleyn. Prince William, Duke of Cambridge, descends from Mary Carey (nee Boleyn) through both his paternal and maternal lines, and those who believe that the Carey children were in fact fathered by Henry VIII believe that William also descends from Henry VIII.1 Whatever you believe, this new royal baby has a smidgeon of Boleyn blood and I find that interesting.
On this day in history…
1596 – Henry Carey, 1st Baron Hunsdon, Privy Councillor and Lord Chamberlain, died at Somerset House. It is said that on his deathbed, Elizabeth I offered to give him the title Earl of Wiltshire, a title once held by his grandfather, Thomas Boleyn, but Henry refused Elizabeth's offer, saying "Madam, as you did not count me worthy of this honour in life, then I shall account myself not worthy of it in death." He was buried at Westminster Abbey on 12th August 1596 in St John the Baptist's Chapel, at Elizabeth I's expense. His tomb is the tallest in the Abbey.
Hunsdon was the son of William Carey and his wife, Mary Boleyn, sister of Anne Boleyn. Mary was mistress to Henry VIII at some point in the 1520s, and some people believe it is possible that Hunsdon was actually fathered by the King.
You can read more about Henry Carey in my article "Mary Boleyn Part Two – The King's Children?"
Notes
Alison Weir also lists the Duchess of Cambridge in her list of those who descend from the Careys (p248 of "Mary Boleyn: The Great and Infamous Whore) and there has been controversy online regarding claims in a Daily Mail article and by Hever historian Anna Spender (cited in Royal baby: Proud mother Kate, the Duchess of Cambridge, and her Kentish roots) that the Duchess descends from Elizabeth Leighton (nee Knollys), granddaughter of Mary Boleyn.