In the Footsteps of the Six Wives of Henry VIII by Sarah Morris and Natalie Grueninger
Posted By Book Reviewer on August 16, 2023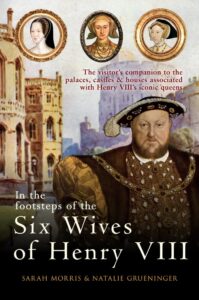 Back in 2013, I reviewed Sarah and Natalie's first book In the Footsteps of Anne Boleyn which was described as "the visitor's companion to the palaces, castles and houses associated with Henry VIII's infamous wife". You can click here to read my review of it, but suffice to say I loved it. I saw it as a book with multiple uses: an invaluable resource for those planning a history themed holiday in the UK, but also a book that allowed readers all around the world to find out more about the historical places from the comfort of their favourite chair.
This second instalment, which is about historical places linked to all of Henry VIII's wives, is just as good and works in the same way. I did wonder how Sarah and Natalie were going to handle the Anne Boleyn section, seeing as they'd written a whole book on places linked to Anne, but it was done really well and I never felt "I've read this before". Obviously some Anne Boleyn places have been duplicated, but four more have been added because Natalie and Sarah have continued their research: Haseley Court, Buckingham, Hunsdon House and Chertsey Abbey.
The book on places connected to Anne Boleyn took readers around the south-east and south-west of England, and to France and Belgium, but this book takes readers even further: Spain, Germany, and a greater part of the UK, including Henry VIII's famous Northern Progress route. There are eight maps at the start to help you with the locations and there are stunning photographs, old engravings and plans. The research is meticulous and I know how hard Natalie and Sarah worked on this book as I followed their travels on social media and I also met up with Natalie at the Alhambra in Granada – it was a pleasure sharing that day with her and her family.
The book is divided into 7 main parts, with properties sorted into each:
Principal Royal Residences – This was a great way of handling the places that are common to all the wives, being royal palaces.
Katherine of Aragon – This includes a wonderful tour of some of Spain's most beautiful locations (Madrid, Valladolid, Seville, Cordoba, Granada and Santiago de Compostela), along with English properties like Ludlow Castle, Leeds Castle and the properties where Katherine spent her last years, away from court.
Anne Boleyn – This takes readers from Hever to Belgium to France, and then back to England to the properties Anne visited as queen and on the south-western progress with Henry VIII.
Jane Seymour – We are taken from Wolfhall in Wiltshire to properties in London with links to Jane.
Anne of Cleves – Anne of Cleves may only have been Henry VIII's wife and queen for six months, but this section takes us from various locations in Germany linked to Anne and her family, then on to Belgium and France as Anne made her way to England to marry Henry, to the places she was granted after the annulment and that she stayed in during the reigns of Edward VI and Mary I.
Catherine Howard – This section includes Norfolk House, one of the properties that Catherine was brought up in; Oatlands Palace, where she married Henry VIII; the properties the royal couple stayed in on their Northern Progress, and Syon Abbey, where Catherine was kept after her fall.
Katherine Parr – Properties in this section include ones located in Hertfordshire, Lincolnshire, Cumbria, Yorkshire, Northamptonshire, London, Kent, Surrey and the Cotswolds, the location of Sudeley Castle, where Katherine spent her final days and where she was laid to rest.
The book also contains a "Further Reading" section, which is useful for those who want to know even more about these queens and the places linked to them.
It's a great book, I can't recommend it highly enough, and even if you're never going to visit Europe this book is still for you, travel vicariously through this book!
Book Details
This book provides a fresh perspective on the lives of Henry VIII's six wives by embarking on a journey through the manors, castles and palaces in which their lives were played out. This journey traces their steps to the Alhambra in Spain, childhood home of Katherine of Aragon; to the very room at Acton Court where Anne Boleyn and Henry VIII publicly dined; through the cobbled grounds of Hampton Court Palace, which bore witness to both triumph and tragedy for Jane Seymour; into the streets of Düsseldorf in Germany, birthplace of Anne of Cleves; among the ruins and picturesque gardens of St Mary's Abbey in York where Catherine Howard and Henry VIII rested at the pinnacle of the 1541 progress; and to Gainsborough Old Hall in Lincolnshire, where Katherine Parr lived as daughter-in-law of the irascible Sir Thomas Brough.
Each location is described in a fascinating narrative that unearths the queens' lives in documents and artefacts, as well as providing practical visitor information based on the authors' first-hand knowledge of each site. Accompanied by an extensive range of images including timelines, maps, photographs and sketches, this book brings us closer than ever to the women behind the legends, providing a personal and illuminating journey in the footsteps of the six wives of Henry VIII.
Hardcover: 416 pages
Publisher: Amberley Publishing (15 Mar. 2016)
Language: English
ISBN-10: 1445642913
ISBN-13: 978-1445642918
Kindle ASIN: B01CUR2WUQ (This is my affiliate link for Amazon.com and I may receive a small payment if you buy the book through this link)
Available from Amazon.com, Amazon UK and your usual bookstore.
Originally posted on May 26, 2016.