Posted By Claire on February 17, 2009
My purpose in starting this blog is to record and share my journey of discovery, my mission to expose the real Anne Boleyn.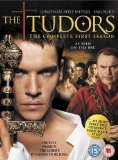 I have always been interested in history, particularly the Tudor period, since I did history A level at school, but this passion has been reawakened by watching the Tudors on TV, reading the books of Philippa Gregory and then reading non-fiction books on her.
Anne Boleyn grabbed my attention because she seems such a mystery. Depending on what you read, she could be any of the following:-
A witch who used witchcraft and her feminine charms to seduce Henry VIII
A young and innocent girl who was used as a tool by her family for their own agenda
An adultress and whore who slept with anyone who glanced in her direction, even her brother
An intelligent and cunning woman who plotted her way to the top
A key figure in starting the Reformation in England
A martyr and heroine, both for her faith and her true love of Henry
The most influential Queen Consort that England has ever known
A traitor to the Crown
An ugly monster of a woman who also had six fingers on one hand
A devout Christian woman
A tease who forced Henry into annulling his marriage to Catherine of Aragon by rebuffing his sexual advances
A fantastic politician and diplomat who had much to do with forming an English-French alliance
The most unpopular and hated Queen Consort in history
An extravagant spendthrift who spent fortunes on refurbishing palaces and buying jewellery and clothes.
As you can see, there are many different beliefs about who Anne was and what she was like as a person!
My intention is to study history more closely to see if I can get to know this fascinating woman better and to make an informed judgement of her. I think it will be a tricky mission, as I am sure that historical evidence will have been tampered with and skewed in Henry's favour, after all, he let her be executed for treason, incest and adultery.
My journey begins and I hope that you will follow it…