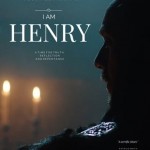 Good news for those of you who enjoyed the trailer for the short film "I am Henry" and who have been dying to see the whole thing, Jan Hendrik Verstraten, the writer and director, has just let me know that "I am Henry" is now available to rent or buy on VIMEO ON DEMAND. Yay!
Simply go to https://vimeo.com/ondemand/66333 to rent or buy the film now. I hope you enjoy it as much as I did and I'd love to hear your thoughts on it.
It really is a wonderful film. Click here to read my review of it and you can watch the trailer here or on Vimeo.