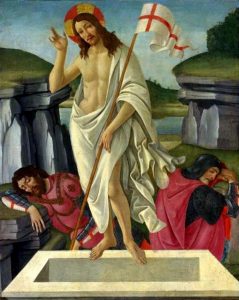 Happy Easter!
Today, Christians around the world celebrate the resurrection of Jesus Christ. This was a day that was also important in the Tudor church calendar.
On Easter Sunday, people would go to church and the church candles and those around the Easter sepulchre were extinguished and then the church candles were re-lit by the priest from a fire. The Easter sepulchre that had been prepared on Good Friday, and which represented Christ's tomb, was opened and the consecrated host and the image of Christ taken out. Christ's resurrection, his triumph over death and his sacrifice for our sins, was then celebrated with a special mass.
Of course, Easter Sunday also brought the fasting of Lent to a close, so people also celebrated the day with feasting.
On Good Friday, I shared the apostle John's account of Christ's crucifixion, taken from William Tyndale's New Testament, a book that Anne Boleyn owned and encouraged others to read. Here is Tyndale's translation of John's account of the first Easter Sunday (I have modernised the spelling):
"The morrow after the sabbath day came Mary Magdalene early when it was yet dark, unto the sepulchre and saw the stone taken away from the tomb. Then she ran, and came to Simon Peter and to the other disciple whom Jesus loved, and said unto them. They have taken away the Lord out of the tomb and we cannot tell where they have laid him. Peter went forth and that other disciple, and came unto the sepulchre. They ran both together, and that other disciple did outrun Peter and came first to the sepulchre. And he stooped down and saw the linen cloths, yet went he not in. Then came Simon Peter following him, and went into the sepulchre, and saw the linen cloths lie, and the napkin that was about his head not lying with the linen cloths, but wrapped together in a place by itself. Then went in also that other disciple which came first to the sepulchre and he saw and believed. For as yet they knew not the scriptures, that he should rise again from death. And the disciples went away again unto their own home.
Mary stood with out at the sepulchre weeping. And as she wept, she bowed herself into the sepulchre and saw two angels in white sitting the one at the head, and the other at the feet, where they had laid the body of Jesus. They said unto her: woman why weepest thou? She said unto them: For they have taken away my lord, and I wot not where they have laid him. When she had thus said, she turned herself back and saw Jesus standing, and knew not that it was Jesus. Jesus said unto her: woman why weepest thou? Whom seekest thou? She supposing that he had been the gardener, said unto him. Sir if thou have borne him hence tell me where thou hast laid him, and I will take him away. Jesus said unto her: Mary. She turned herself and said unto him: Rabboni which is to say master. Jesus said unto her: touch me not, for I am not yet ascended to my father. But go to my brethren and say unto them, I ascend unto my father, and your father: my God, and your God. Mary Magdalene came and told the disciples that she had seen the lord, and that he had spoken such things unto her.
The same day at night, which was the morrow after the sabbath day, when the doors were shut (where the disciples were assembled together for fear of the Jews) came Jesus and stood in the midst, and said to them: peace be with you. And when he had so said, he showed unto them his hands and his feet, and his side. Then were the disciples glad when they saw the lord. He said unto them again: peace be with you. As my father sent me, even so send I you. When he had said that, he blew on them, and said unto them: Receive the holy ghost: whosoever's sins ye remit, they are remitted unto them: And whosoever's sins ye retain they are retained."
On this day in history, 1st April 1536, the imperial ambassador, Eustace Chapuys, wrote a very long and detailed letter to his master, Emperor Charles V, in which he mentioned an incident concerning King Henry VIII and his alleged new flame, Jane Seymour. Click here to read more.
Notes and Sources
Picture: The Resurrection, studio of Sandro Botticelli.
Tyndale, William (d. 1536) The New Testament of our Lord and Saviour Jesus Christ by William Tyndale The Martyr, The Original Edition, 1526Gould & Newman, 1837, John 20.