Happy Birthday to Queen Elizabeth I!
Posted By Claire on September 7, 2021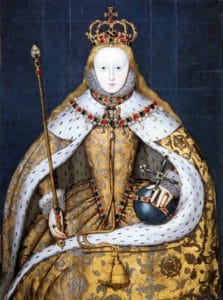 On this day in Tudor history, 7th September 1533, Queen Anne Boleyn gave birth to a daughter at Greenwich Palace.
Chronicler Edward Hall recorded the royal birth, writing, "The vii. day of September beyng Sondaie, betwene thre and foure of the Clocke at after noone, the Quene was delivered of a faire Lady […]". He goes on to record that a Te Deum was sung and "great preparacion was made for the christenyng", which would take place three days later, on 10th September.
Although the baby wasn't the longed-for prince, her safe arrival was still worth celebrating in style as it showed that Anne Boleyn was fertile, and there was hope that sons would follow.
The little princess was baptised Elizabeth, the name of both of her grandmothers. She would, of course, grow up to be Queen Elizabeth I, the Virgin Queen, Gloriana and Good Queen Bess, a monarch who would rule England for over 44 years and who is known as one of the country's greatest monarchs.
In our book, The Boleyns of Hever Castle, Dr Owen Emmerson and I dedicate a whole chapter to Elizabeth I, "The Boleyn Queen", and in it we write "Elizabeth may have been "the lion's cub", but she was also, heart and stomach, a Boleyn". I loved working on that chapter! If you're interested in the book, you can find out more at getbook.at/boleynhever
Here's a video of our book around the world…