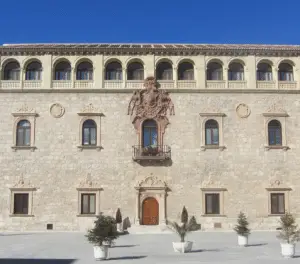 On this day in history, sometime during the night of 15th/16th December 1485, Queen Isabella I of Castile gave birth to her youngest daughter at the Archbishop of Toledo's palace at Alcalá de Henares, a town just east of Madrid. Isabella and her husband, Ferdinand II of Aragon, named their daughter Catalina after her great-grandmother, Catalina (Catherine) of Lancaster.
Isabella had travelled to Alcalá in the autumn of 1485, after a summer of campaigning against the Moors in Andalucia, to prepare for Catherine's birth.
Picture: Photo of the Palacio arzobispal de Alcalá de Henares, Wikipedia.