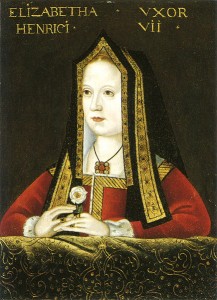 Not nice to die on your birthday, eh? Well, that's what happened to Elizabeth of York, Queen Consort of England! Elizabeth of York, wife of Henry VII and mother of Henry VIII was born on this day in history, 11th February 1466, and died on this day in history, 11th February 1503, aged 37.
Here are some facts about Elizabeth of York:-
Birth: 11th February 1466 at Westminster Palace, London
Parents: Edward IV and Elizabeth Woodville
Death: 11th February 1503, Richmond Palace from a post-partum infection, on her 37th birthday
Buried: Henry VII's Chapel, Westminster Abbey. Her funeral took place on the 23rd February and there was much mourning in England for this popular queen.
Marriage: Married Henry Tudor in January 1486, a marriage that ended the War of the Roses by uniting the Houses of York and Lancaster. The Tudor Rose emblem is a mixture of the red rose of Lancaster and the white rose of York. Elizabeth had a claim to the throne being the heir of Edward IV as her brothers (the Princes in the Tower) were missing.
David Starkey, in "Henry: Virtuous Prince" writes that the marriage did not take place until 6 months after the Battle of Bosworth "probably because Henry VII did not wish to seem to hold the throne in right of his wife…who, as eldest daughter of Edward IV, had a much better hereditary claim than his own."
It is said that Henry VII and Elizabeth of York had a happy, loving marriage and that he was grief-stricken at her death in 1503.
Coronation: Elizabeth of York was crowned Queen Consort on 25th November 1487
Children: Arthur Prince of Wales, Margaret Tudor (Queen Consort of Scotland), Henry VIII, Elizabeth Tudor, Mary Tudor (Queen of France), Edmund Tudor (Duke of Somerset), Edward Tudor and Katherine Tudor. Only Arthur, Henry, Margaret and Mary survived childhood and Arthur died at the age of 15.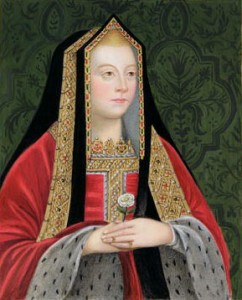 Appearance: Elizabeth of York was said to be a beauty, having inherited her looks from her handsome father and beautiful mother. She had fair hair and was an English Rose. Starkey describes her "as one of the beauties of the age: tall, stauesque, with blonde hair, blue eyes, fair skin and pure, regular features."
Character: She was known to be kind, gentle and loyal. According to Starkey, Elizabeth "was a healer and reconciler", a peacemaker.
Motto: Humble and Reverent Queen
Legacy: Her son Henry VIII ruled England from 1509-1547, her daughter Margaret married James IV of Scotland, and her daughter Mary married Louis XII of France and then Charles Brandon, Duke of Suffolk. Her grandchildren included James V of Scotland, Edward VI, Mary I and Elizabeth I, and her great-grandchildren included James VI/I and Frances Grey (mother of Lady Jane Grey. Her son Henry VIII named his daughter, the future Elizabeth I, after her. Some say that Henry idolised his mother so much that he couldn't find a wife that lived up to his expectations – a mix of his mother and his grandmother, Margaret Beaufort.
Happy Birthday Natalie Dormer and Claire of Lancaster! And 10% off!
It's also Natalie Dormer's birthday today – Happy Birthday Natalie! And it's my birthday too! I was born in Lancashire so I'm a Red Rose , Claire of Lancaster!
To celebrate my birthday, I'm giving you all 10% off orders from The Anne Boleyn Files and Elizabeth Files – simply enter BIRTHDAY10 in the coupon box at checkout. The code is valid from today (11th) until the end of Monday 15th.