Posted By Claire on October 14, 2010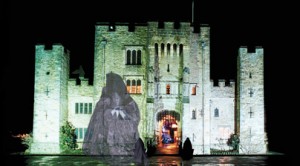 If you're in the South East of England this Halloween why not spend it at Anne Boleyn's family home, Hever Castle, where they are holding a special ghost tour. Here are the details from Hever Castle's newsletter:-
It is Halloween! Who dares to walk through the moonlit gardens to the castle where they say a figure paces the castle forecourt? Who is the child sitting on the chair and why do some feel claustrophobic with the activity in the Queens' Chamber?
An experience to send a shiver down your spine!
Why not make an evening of it and enjoy supper in the magnificent atmospheric new Guthrie Pavilion before being guided into the darkness of the night to the castle.
Ghost Tours only
Tours start from 6:30pm
Ghost Tours with Supper
Tours start 8:30pm. Supper sittings are at 7pm and 8pm
For further details or to book your ticket you can telephone 01732 861701 or visit the Hever Castle website.
P.S. Remember to enter our Halloween Competition, see Halloween Competition 2010.