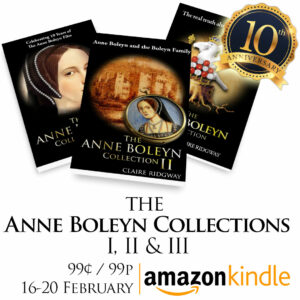 Today is the last day of the Kindle Countdown Deals for my Anne Boleyn Collection books!
It's been the 10th anniversary this week of the publication of my very first book, The Anne Boleyn Collection, and to celebrate, I have listed all three Anne Boleyn Collection e-books for 99c/99p on Amazon.com and Amazon UK. The deals end at midnight tonight PST and GMT.
Here are links to those books which will take you to your Amazon store:
Thank you so much for following my work!