#FridayFun – Did Anne Boleyn set out to trap Henry VIII?
Posted By Claire on September 8, 2023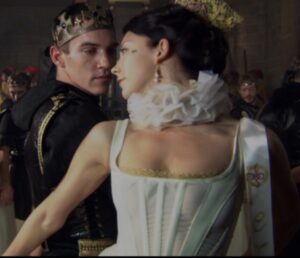 For this week's #FridayFun, I thought it would be interesting to see what people think about Anne Boleyn's relationship with Henry VIII?
Did Anne Boleyn set out to attract the king a la Elizabeth Woodville? Was her rebuffing of him all part of a plan to make him want her even more? Did she have her eyes on the crown and was playing a game to get what she wanted?
or
Did Anne really mean "no"? Was she rebuffing Henry VIII's advances because she truly didn't want to become a royal mistress? She meant no and expected him to move on to an easier conquest.
What do you think?
Share your view with this poll and feel free to say why by leaving a comment.
Image: Natalie Dormer as Anne Boleyn and Jonathan Rhys Meyers as Henry VIII in a still from Showtime's "The Tudors".