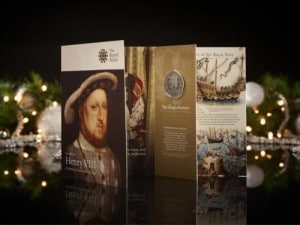 I always seem to be writing Friday Round Ups – is time flying or is it just me?! So, what's been going on at the Anne Boleyn Files this week?
Christmas orders have been flooding in – Well done to those of you who are so organised! Due to the fact that the majority of items are handmade, standard international orders for Daniela's jewelry items have to be in by tonight to ensure that you get them in time. We also offer priority and express services though so don't worry. See our Christmas Ordering Deadlines for futher details.
New jewelry – See the slideshow at the end of this post to see the new items which have been added to our ranges, these include a necklace and earrings for the Mary Rose range where all profits go to the Mary Rose 500 Appeal.
Sir William Brereton Part 2 – This week I completed my look at the life of Sir William Brereton and how he got caught up in the coup against Anne Boleyn. I found him a fascinating character to lresearch as he had a rather shady past.
"The Early Loves of Anne Boleyn" by Josephine Wilkinson – I have chosen this book as our November Book of the Month because it is the latest Anne Boleyn book out, having been released just after Alison Weir's "The Lady in the Tower". It's a fascinating look into the men who Anne was linked to – James Butler, Henry Percy, Thomas Wyatt and, of course, Henry VIII, and I enjoyed finding out more about these men. The book also goes into detail on Anne's life abroad, with the Archduchess Margaret and Queen Claude. Click here to read my review.
The Elizabeth Files – Over at the Elizabeth Files, there have been lots of comments coming in on last week's post on whether Elizabeth was genetically male – see "Elizabeth I: A Virago, Genetically Male or Simply a Strong Woman" – and this week I have written about another Elizabeth myth, whether Elizabeth and Robert Dudley had an illegitimate son called Arthur Dudley. I love conspiracy theories! I have also just added a forum to the Elizabeth Files and users of the forum here should be able to just log into it without having to register all over again.
Christmas Presents – Obviously we have some great products here on the Anne Boleyn Files for Christmas presents (check out our Products Page to see everything we have to offer) but the Royal Mint wrote to me this week about how their special coins can make the perfect Christmas gift. They say:
"Coins and Christmas have long been linked, whether it's through the tradition of placing a silver sixpence in a Christmas Pudding or the legend of St Nicholas dropping gold coins down the chimney and into waiting Christmas stockings.  This Yuletide, give loved ones a Christmas present to cherish with a traditional gift of money from the Royal Mint.
From commemorative coins celebrating great moments in British history to medallions honouring some of today's most popular icons, the Royal Mint's beautifully crafted gifts make the perfect keepsakes to be treasured for year's to come.  For Christmas, for everyone, forever."
For Tudor history fans, the Royal Mint have  the 2009 Henry VIII £5 Coin Pack, priced at £9.99, which celebrates the 500th anniversary of Henry VIII's accession to the throne and comes in a lovely presentation pack (see photo accompanying this post). See the Royal Mint website for this coin and other Christmas gift ideas.
History Quiz – Give your brains a Friday workout with the weekly BBC History Magazine Quiz. I got 4/7, not too bad!!
[slideshow id=158 w=300 h=200]
P.S. Sorry about the Christmas Henry and Anne!!