Posted By Claire on March 21, 2013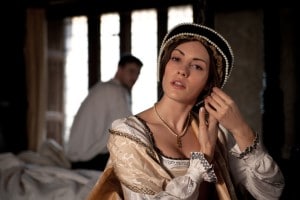 Many of you will remember that I mentioned the play "Fallen in Love: The Secret Heart of Anne Boleyn", written and directed by Joanna Carrick, last year, when it was being performed at Gippeswyk Hall in Suffolk. Well, if you missed out on the play last year then you have another chance to see it and you can even see it performed at the Tower of London!
The box office opens today so make sure you get your ticket!
Performance Dates:
Tower of London
May 17-19, 25-26, 31
June 1, 8-9, 13-16
Gyppeswyk Hall, Suffolk
May 7-11, 14-15, 22-23, 28-29
June 4-6
Book your tickets at www.redrosechain.com or on 0844 800 3371
The Play
Anne Boleyn: No secret lasts forever…
It's 1536. The woman who changed the world forever by capturing the heart of a king faces trial with her brother for adultery, incest and treason.
See Carrick's extraordinary new play starring Emma Connell and Scott Ellis inside the awesome setting of the Tower of London. Performances take place in the Banqueting Suite in the New Armouries as the sun sets on the site of Anne's trial, execution and final resting place.
Praise for the play
"Accomplished writing, astute direction and exemplary history… A practically flawless piece of theatre." Suzannah Lipscomb
"Carrick succeeds in drawing a great contemplative sweep of emotions." Ben Sharratt, The Stage