Elizabeth I's Locket Ring on Display
Posted By Claire on June 22, 2012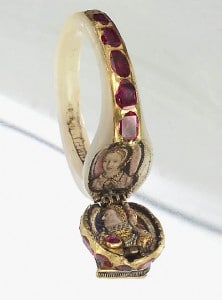 Thank you so much to Tamise for alerting me to the fact that Elizabeth I's famous locket ring is on display right now. The ring isn't generally on display as it is kept at Chequers, the official country residence of the Prime Minister, so this is your chance to see it. It is part of the 'Gold: Power and Allure' exhibition of the Goldsmiths' Company.
More details can be found on Tamise's blog post – click here – and on the exhibition page of the Goldsmiths' Company website – http://www.thegoldsmiths.co.uk/events/gold-power-and-allure/
The exhibition is on now and is running until 28th July.
Another photo of the ring can be seen at https://www.theanneboleynfiles.com/wp-content/uploads/2012/06/Locket-ring.jpg – thanks to Marilyn Roberts for sending it to me.
On this day in history…
1535 – Execution of John Fisher, Bishop of Rochester and Catholic martyr, by beheading – see Bishop John Fisher Executed