Posted By Claire on November 27, 2015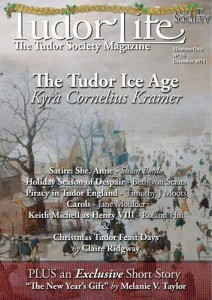 The December edition of the Tudor Society's Tudor Life magazine has just come out and it's a wonderful 78-page edition packed full of Tudor history articles.
Articles this month include:
A not so little Ice Age by Kyra Cornelius Kramer
Tudor Places – Anne of Cleves House and Lewes Priory
Tudor History's Holiday Season of Despair by Beth von Staats
She, Anne by Susan Bordo
Piracy, Kings and the Hundred Years' War by Timothy J. Moots
Henry VIII and his Six Wives: the Film by Roland Hui
The New Year's Gift – Short story by Melanie V. Taylor
December Feast Days and Christmas by Claire Ridgway
A brief history of the Christmas carol by Jane Moulder
A Shakespearean Christmas Banquet by Olga Hughes
And much more!
You can read a sample of it over at the Tudor Society website – click here – and there are also 16 copies of Tudor Life in our archives for members to enjoy.