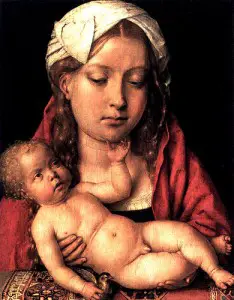 On this day in history, 22nd February 1511, 500 years ago today, Henry, Duke of Cornwall, the baby son of Henry VIII and Catherine of Aragon died at the age of just 52 days old. He had been born on New Years Day and his birth had been met with celebrations throughout the land – bonfires, wine flowing through the streets of London, cannons firing, pageants, banqueting and jousts – He was, after all, the King's only son and heir.
A few days after his birth, little Henry had been christened at the Chapel of Observant Friars at Richmond. The French King, Louis XII, had been chosen to be one of his godfathers and had sent a golden cup and salt as christening gifts; William Warham, Archbishop of Canterbury was the other. Margaret of Austria was his godmother, although she did not attend.
The prince was then put under the care of Elizabeth Poyntz and a staff, who included four "rockers" to rock his cradle and help him sleep, yeomen and grooms, and a physician. All the care in the world could not prevent his death shortly after the celebration pageants at Westminster. It is not known what caused his death but infant mortality was high in Tudor England. Henry VIII and Catherine of Aragon were devastated, they had lost their baby, their "little Prince Hal", and the heir to the throne. Little did Henry know that it would be another 26 years until he had a surviving, legitimate son and heir.