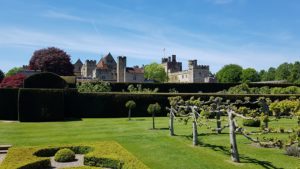 Do you think Tim will notice if I don't return home? I'm sure Hever won't notice if I move in to a little cubby hole somewhere, perhaps the priest hole! I'm having such a blast on the Anne Boleyn Experience tour that I'm not sure I want it to finish!
Today, we visited the stunning Penshurst Place, film location to many period dramas, and, of course, home to the ill-fated Duke of Buckingham and the fascinating Sidney family, as well as having Thomas Boleyn as its keeper at one point. We also visited the church next door, resting place of Thomas Boleyn, brother of Queen Anne Boley, and rounded off the day with a delicious dinner and an excellent talk from historian Owen Emmerson, who also works as Hever Castle supervisor.
Read all about our day over in my diary entry on the Tudor Society – click here.