Posted By Claire on December 18, 2022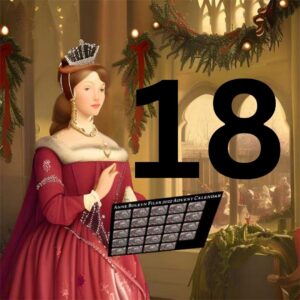 It's time for another treat from the Anne Boleyn Files Calendar and today we have a wonderful contribution from author and historian Gareth Russell.
Gareth's latest book is "Do Let's Have Another Drink", a biography of Queen Elizabeth, the Queen Mother, and he's sharing an interesting Anne Boleyn-linked excerpt with us. Thank you, Gareth!
To access the Advent Calendar, simply click here, or on the image in this post, or on the website header. You can catch up with any you have missed.
Enjoy two further Tudor treats:
Today's video in my "The Tudors in their own words" series – click here.
Teasel's Tudor Trivia – 18 December – How to dye your hair red Tudor style – click here.