Conversations and Sketches by T.J. Banks
Posted By Claire on February 27, 2012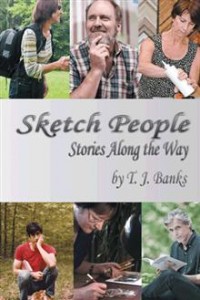 Today, we have a guest post from author T.J. Banks who has just published a "Sketch People", a collection of stories about people – their work, their passions, and their experiences. I got to know T.J. when she interviewed me and I'm proud to be involved in this book – I'm Chapter 25: The Queen's Scribe!
Over to T.J. …
Someone once defined talking to yourself as having a conversation with a highly interesting individual. Well, I get to talk to highly interesting individuals all the time. And none of them – as far as I know, at any rate – is a split personality. It's one of the perks of being a journalist: there's always a slew of colorful material walking around out there.
I have been writing for most of my life. I started freelancing when I was in college, and I haven't stopped since. Can't. It's too much a part of who I am.
I've done a lot of different types of writing over the years – historical fiction, animal stories, personal essays, poetry, and time-travel/fantasy – but my roots are in journalism. I have always loved interviewing people and listening to their stories… finding out just how they got where they are, what drove them, and even what detours they took along the way. (Sometimes a good detour turns out to be the story.) My blog, "Sketch People," grew out of that love.

"Sketch People" is essentially a series of conversations with people about what they do. And when I stumbled upon Claire Ridgway and The Anne Boleyn Files that she had so lovingly, painstakingly created, I knew that this was a conversation I definitely wanted to have. Not only did I share her fascination with Henry VIII's second queen, but Claire's own story intrigued me as well. I mean, here was a successful freelance writer who gave all that up to follow a dream. Literally. That takes both courage and determination… qualities I feel sure Anne herself would have been able to relate to.
Claire's work is very much a part of her, and that is true of all my interviewees. "I guess comedy is one of those things where it's harder to quit than to keep going," Maggie LeVine, a stand-up comic, told me. "Writing is hard," actor and screenwriter Jay Amari remarked. "I get up in the morning, and I say, 'Why am I doing this?' I have to do this." Even my old friend Tack Cannon, growing up in pre-World War I Texas, didn't hesitate about doing household chores in return for the art lessons she craved.
All these people and more have found their way into a book, Sketch People: Stories Along the Way (Inspiring Voices/Guideposts), which has just been released. There are a few stories that stray from the general theme: "The Message," for instance, is included simply because it is a powerful story about bonds that transcend death. But the majority of them deal with people following their callings.
What's my take on all this? I think that we all have a great hunger to know about other people. We tend to find echoes of our own experiences in other folks' stories. I also believe that in a world of flash, glitz, and instant celebrities, we crave substance. That's why movies like "The King's Speech" and "The Help" did so well. Moviegoers felt as though they were getting something real. Well, readers want something real, too. So I offer you my Sketch People with all their passion and purpose. They're the ones sharing their stories. I'm just asking questions and taking notes.
T. J. Banks is the author of A Time for Shadows, Catsong, Derv & Co., Souleiado, and Houdini, a novel which the late writer and activist Cleveland Amory enthusiastically branded "a winner." Catsong, a collection of her best cat stories, was the winner of the 2007 Merial Human-Animal Bond Award. A Contributing Editor to laJoie, she has received writing awards from the Cat Writers' Association (CWA), ByLine, and The Writing Self. Her work has appeared in numerous anthologies, including Guideposts' Soul Menders, Their Mysterious Ways, Miracles of Healing, and Comfort From Beyond. She has also worked as a stringer for the Associated Press and as an instructor for the Writer's Digest School.
Sketch People: Stories Along the Way by T.J. Banks was released on the 11th January 2012. Click here to order from Amazon.com. It's available as a paperback or Kindle version.