Thanks to historian, Suzannah Lispcombe, for reminding me of this "on this day in history" event today. Yes, on this day in history, 18th April 1536, the Imperial Ambassador, Eustace Chapuys, was tricked into recognising the woman he called "the concubine" as Queen.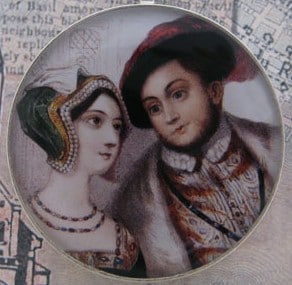 On the Tuesday after Easter, the 18th April 1536, Chapuys was due to meet the King at Greenwich. The ambassador arrived and was met by George Boleyn and Thomas Cromwell, who brought him a message from the King, who asked him to visit Anne Boleyn and kiss her hand. Chapuys excused himself because, as Eric Ives points out, "that was going too far, too fast", and, in Chapuys's own words, it "would not be advisable". He could not bring himself to kiss the hand of "the Concubine" and recognise her as Queen. So, George Boleyn, Lord Rochford, conducted Chapuys to mass, carefully placing the ambassador behind the door through which Anne would enter. Anne Boleyn, who was accompanying her husband to mass, knew exactly where Chapuys was and so stopped as she entered, swung round to him and bowed, Chapuys was forced to do likewise. He bowed to the Queen. Henry and Anne had got what they wanted, recognition of Anne's status.
Anne Boleyn, of course, had no way of knowing that in a month's time she would be imprisoned in the Tower of London, waiting to die. What a huge fall!
It is clear that in mid April 1536, just 2 weeks before Anne's arrest, Henry VIII was still pushing for Anne to be recognised as his wife and rightful queen. Does this show that he was still committed to Anne? Why force Chapuys into recognising a woman you're going to discard? Is this evidence that Henry VIII was not involved in plotting against Anne Boleyn or is it just evidence of his fickle nature? What do you think?
Also on this day in history…
18th April 1540 – King Henry VIII made Thomas Cromwell Earl of Essex, just 3 months before he was executed after being found guilty of treason, heresy, corruption and more!
18th April 1587 – John Foxe, the English historian and martyrologist, died aged around 70. He is known for his book "Actes and Monuments", commonly known as "Foxe's Book of Martyrs", an account of Christian martyrs throughout history, with particular emphasis on the Protestant martyrs who died during the reign of Mary I. His famous book can be read at Project Gutenberg, see http://www.gutenberg.org/ebooks/22400.
Sources