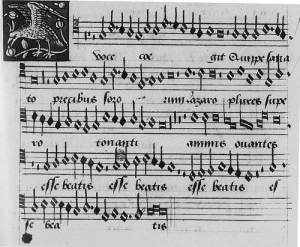 You may already have seen this on the news, so apologies for sharing it again, but for those who haven't heard, some compositions from a book known as "Anne Boleyn's Songbook" have been performed and recorded by the Alamire Choir.
The book, which is manuscript 1070 in the collection of the Royal College of Music, is described by the RCM as "an early 16th-century choir book containing 39 Latin motets and 3 French chansons by Franco-Flemish composers. Evidence suggests that it was prepared for Anne Boleyn."
However, opinion is divided over whether it was prepared for Anne, whether it was actually prepared initially for Marguerite d'Angoulême and passed on to Anne, or whether Anne did in fact compose some of the music herself. Whatever the truth of the matter, the book is definitely linked to Anne Boleyn because her name can be found in the book and one composition depicts a falcon, used by Anne as her badge, pecking at a pomegranate, the badge of Catherine of Aragon.
You can see a video of a news report, which includes the Alamire Choir performing the music, at www.itv.com/news/2015-09-14/music-from-anne-boleyns-songbook-performed-for-first-time-in-500-years/
Here's a promotional video of Anne Boleyn's Songbook from the Alamire Choir:
https://www.youtube.com/watch?v=UBlUlId85ss