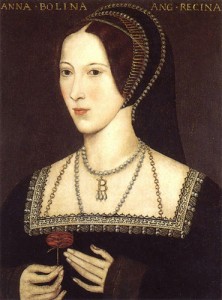 Yes! Finally, I can get to write about Anne Boleyn again – phew! I'm sorry that Henry VIII has dominated the last few posts but, with the 500th anniversary of his coronation on June 24th, there are many special Henry VIII events taking place over the next week.
Anne Boleyn: "The Great Whore"
Today, moving on from Anne Boleyn "The Witch", I'm going to explore the idea that Anne Boleyn was a whore. The idea that Anne Boleyn was a whore or strumpet has absolutely nothing to do with her own moral standards, but stems from public opinion of her, the opinions voiced by Catherine of Aragon's supporters and those who set out to blacken her name after her execution and during Mary I's reign.
Both the public and Catherine of Aragon's supporters blamed Anne Boleyn for stealing the King away from Catherine, usurping Catherine's place as Queen, turning Henry against the Catholic Church and for causing the tyrannical behavior of the King which resulted in good men (Sir Thomas More and Bishop John Fisher) losing their lives and monasteries being ransacked. Phew! No wonder Anne Boleyn was so unpopular when she first became Queen!
Names for Anne
It was believed that for her to hold this kind of power and influence over the King (to make him act this way), she must have some kind of sexual hold over him, after all, in those days sexuality was a woman's only power! So, Anne became known as:-
"The Great Whore"
"The King's Whore" and a "naughty paike" (from Michael Farquhar "A Treasure of Royal Scandals")
"The concubine", "the she-devil" and "the whore" – Chapuys, the Imperial Ambassador
"The Goggle Eyed Whore" – Margaret Chanseler (quoted in Eric Ives' "The Life and Death of Anne Boleyn")
"Common stewed [professional] whore" – the Abbot of Whitby
"The scandal of Christendom" – Catherine of Aragon
When we look at Anne through the eyes of the public who loved (and were still loyal to) Catherine of Aragon and who saw their beloved King Henry turn into a man who now committed brutal and atrocious acts on a seemingly daily basis and who treated his previous wife and daughter with such contempt and cruelty, we can well understand why they thought of her as an evil woman who had some kind of hold over the once virtuous King.
The Injustice of it All!
But to think of Anne Boleyn as some kind of harlot or sexual predator who stole the King's heart from the true queen is to do her a might injustice.
There is absolutely no evidence at all that Anne was sexually immoral, that she had sexual relationships before her relationship with Henry VIII or that she was unfaithful to him. Unlike her sister, Mary Boleyn, who had a reputation for her sexual promiscuity, Anne is thought to have held on to her virginity until shortly before her marriage to the King and it was the King who "deflowered" her.
What we do have is evidence that Anne Boleyn was a religious and virtuous woman, who was charitable and giving (she gave alms regularly and sewed garments for the poor), and a woman who spoke out against injustice – she argued with Thomas Cromwell over the fact that money taken from the monasteries was going into royal coffers rather than to the poor and needy.
By the time of her execution, she had actually become quite popular and Sir William Kingston, her jailer, was actually worried that the Tower of London would be stormed by her supporters. The public were shocked by her treatment and disapproved of the King's behaviour with Jane Seymour.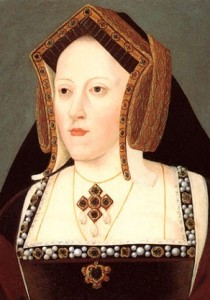 It was unfair of people like Eustace Chapuys to blame Anne for breaking up the marriage of the King and Catherine of Aragon. Chapuys never properly acknowledged Anne as Queen and always referred to her as "the concubine" or "whore" in his dispatches because he felt that Catherine was the true Queen.
However, the marriage of Henry VIII and Catherine of Aragon was over years before Anne even came on the scene. Kelly Hart in "The Mistresses of Henry VIII" writes that the first rumours of annulment of the marriage started to circulate in 1514 and Retha Warnicke ("The Rise and Fall of Anne Boleyn") writes of how the King had decided to annul the marriage before even considering a new wife.
Now I know that I have been accused of being biased about Anne (and I am really!), but I certainly don't believe that she was a martyr (more on this next week) or a perfect woman. I cannot condone her behaviour with a still married man but I feel that it is injust to paint her as a harlot, witch or adulteress. Henry VIII was responsible for his actions and even though I know that Anne had some influence over him, and that he discussed things with her, she cannot take all the blame for the atrocities he committed or for the man that he turned out to be. The change from virtuous prince to tyrannical monster was not all down to Anne.
What Do You Think?
What I really love about The Anne Boleyn Files is that it's become really "interactive" and that's what I wanted. I don't profess to be an historian or expert on Anne Boleyn, so I love to learn more about her from you guys too and your comments are always really enlightening and thought provoking.
Please leave a comment about why you think Anne was/wasn't a whore and your thoughts on her. Thanks!
P.S. I've added more "The Tudors" replica jewellery on to the shop! See https://www.theanneboleynfiles.com/products-page/tudor-jewellery-accessories/