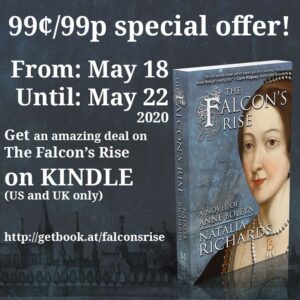 To celebrate the release of her second Anne Boleyn novel and to commemorate the anniversary of Queen Anne Boleyn's execution, Natalia Richard's The Falcon's Rise: A Novel of Anne Boleyn is a kindle countdown deal at 99c or 99p from now until 22nd May.
Kindle countdown deals are available on Amazon.co.uk and Amazon.com and you can click here to find Natalia's book on your country's Amazon site. If you don't have a kindle, you can still take advantage of the offer – just download the free kindle app from Amazon. I use it all the time on my PC and tablet, and it works really well.
Book 2, The Falcon's Flight: A Novel of Anne Boleyn is out today on kindle and in paperback, so you can completely immerse yourself in Anne's story! I've read both, and I thoroughly enjoyed them. I do love how Anne Boleyn is inspiring historians and novelists over 400 years on.
Huge congratulations to Natalia on her new book. Find it here.