Anne Boleyn Experience May 2019 – Room sharing possibility
Posted By Claire on January 7, 2019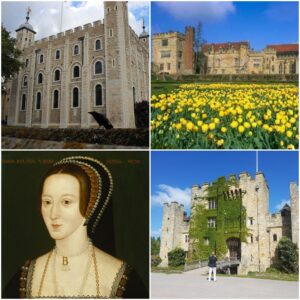 As you know, I co-lead history tours with Philippa Lacey Brewell of British History Tours. This year, we are running the Anne Boleyn Experience (an Anne Boleyn focused tour based at Hever Castle – yay!) in May 2019 and the Executed Queens Tour (Anne Boleyn, Catherine Howard, Lady Jane Grey and Mary, Queen of Scots) in July 2019. I am so excited about both of these – two opportunities to talk Tudor, hear some great speakers and see some beautiful places.
You can find out about these tours at the following links:
We have a room sharing possibility for the Anne Boleyn Experience in May as we have a lady who is ready to book on confirmation of a room-mate. Sharing a room saves you the single supplement and worked out really well for those who shared rooms on our last two tours – they became firm friends.
If you are interested in sharing a room on the Anne Boleyn Experience then please do contact Philippa urgently as the lady is ready to book her place. Philippa's email is philippa.brewell@britishhistorytours.com
Here is a quick reminder about the tour from Philippa (with added excited comments from me!)…
The Anne Boleyn Experience is rather special. We stay for the entire tour at Hever Castle (squeal! It's my favourite historical place!) with exclusive use of the Astor Wing, which includes our bedrooms (all luxury, they're gorgeous!), a withdrawing room, billiard room, private dining room, large outside areas, heated outdoor swimming pool and tennis courts as well as out of hours access to the entire Hever Castle grounds.
We are also dining in the Castle dining room on one night, after a private out of hours tour of the castle.
We have two speakers joining us, Owen Emmerson and Claire Ridgway (me!). Claire joins us for the duration of the trip, our resident Anne Boleyn Expert! (I do try to answer everyone's questions and I'm a night owl so can rabbit on all night with you!)
As well as Hever Castle, we will also visit Penshurst Place (stunning! It was a film location for The Other Boleyn Girl) and the Tower of London. We shall be at the Tower on the anniversary of Anne's trial, for a guided tour followed by a tour by Claire (me!) up to the Tower Hill execution site where the men condemned in the awful events of 1536 were executed (I do like to pay tribute to the men too).
Dates: 12-16th May 2019
Click here to find the webpage with full details for The Anne Boleyn Experience.