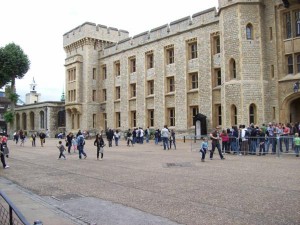 OK, so I promised certain ladies, who will remain anonymous, that I would not relate our after dinner conversation which concerned tattoos, piercings, good looking soldiers, wild teenage years, mid-life crises – oops, sorry! Seriously, let's get back to what you all want to hear about – our visit to the Tower of London.
Well, again, although the weather was supposed to be a mixture of sunshine and showers, just like Anne and Henry's relationship, the rain pretty much stayed away until we were on the way home (I'm calling Hever home!), so we were very blessed with the weather. We were not blessed with the traffic but we had a wonderfully long day at the Tower and managed to see everything we wanted to.
Our guide, John, was amazing, very knowledgeable and very approachable and friendly, and we all enjoyed his morning tour. I had taken some old maps of the Tower with me so that we could figure out the placement of Anne's lodgings in the Royal palace, which no longer exists, and we stood on the real scaffold spot between the Waterloo Barracks and the White Tower, rather than the spot which is marked by the memorial. As we stood on that unmarked spot, watching tourists pass us by, we decided that we should write to the Tower of London to try and get some plaque or marker placed into the ground there – just a small one marked with Anne Boleyn's falcon badge – so that people realise that she was not executed on Tower Green and so people can pay their respects to the actual, real spot. More on this when I get back as we all felt strongly that we should get a petition going about this.
I asked a few people after dinner what the highlights of their day were and everyone agreed that it was visiting the real scaffold spot and also visiting the Chapel of St Peter ad Vincula, Anne Boleyn's resting place. We waited until after 4.30 to visit there, to avoid the crowds and the Yeoman Warders' tours, and we were able to sit in the tranquil church and think about Anne. As I looked at Anne Boleyn's tile and took in the peaceful atmosphere of this place of worship, I felt even more strongly that Anne should not be disturbed and moved to Westminster Abbey. The chapel is a place of worship and is far more tranquil than Westminster Abbey, plus her memorial tile is beautiful and it speaks of her story. We also have to remember that Anne is not the only innocent person to be buried in that chapel, where do you stop if you are re-interring people in 'more suitable' resting places? Just my opinion! After dinner, I produced my copy of Doyne C Bell's 1877 book on the work carried out on the Chapel of St Peter ad Vincula and the examination of the body thought to be Anne Boleyn's – it's a fascinating record.
As I said, we had a morning tour with John and then we split up at lunch to have free time. Some of us joined John on a tour of the Medieval Palace and the White Tower, others went to see the Crown Jewels, the Beauchamp Tower or the Bloody Tower. By the time we left at 5.15pm we were 'towered out', although we definitely weren't 'Anne Boleyned out'! Back to Hever for a very tasty meal and very good company. I feel like I've known this group for years and feel so blessed to have made some very good friends – thank you, guys and gals! It's time to say good night now from Hever – good night!