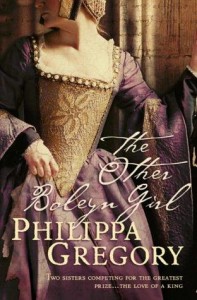 My inspiration for this article comes from a discussion we've been having on The Anne Boleyn Files Facebook page, regarding the inaccuracies of the movie and novel "The Other Boleyn Girl", and from the many emails I receive asking me my thoughts on Philippa Gregory's portrayal of Anne Boleyn.
What concerns me about the emails I receive is that people take "The Other Boleyn Girl" as fact, even though it is marketed as a work of fiction, and I have even heard of people using it for reference when studying Anne Boleyn and the Tudor period!
I realise how tempting it is to take short-cuts when you're studying a topic, e.g. read the study-notes rather than the actual book, but it is extremely dangerous to base your knowledge on something that is a novel and not the true story. I know that Philippa Gregory is seen by many as an historian BUT The Other Boleyn Girl is not a factual retelling of Anne Boleyn's life or even that of Mary Boleyn. Although, in the author's notes at the back of the book, Philippa Gregory talks about how her novel is based on theories outlined in Retha Warnicke's book "The Rise and Fall of Anne Boleyn", and various other secondary sources, there are many, many inaccuracies in the book, along with fallacies and story-lines that have no factual basis.
Let's examine some of them…
Mary Boleyn the Virgin
In "The Other Boleyn Girl", Mary Boleyn is the heroine, the "other Boleyn girl" who is telling her story. The book begins with Mary catching Henry VIII's eye and her family plotting to make Mary his mistress, and the mother of his bastard, to gain status at court. Mary is worried about sleeping with the King and says to George and Anne, "I don't know how to do it… You know, William did it once a week or so, and that in the dark, and quickly done, and I never much liked it. I don't know what it is I am supposed to do." Mary appears innocent and sexually inexperienced and it is Anne who later promises her father and uncle that she will "coach her well enough to get her into his bed". "The Other Boleyn Girl" movie opens with Mary just about to marry William Carey and worrying about her wedding night because she is a virgin – not true!
Fact: Mary had been the mistress of King Francis I of France and gained a reputation for being promiscuous. The reputation may have been unfair and down to gossip, but she was the French King's mistress and so was not sexually inexperienced when she arrived back at the English court.
Anne Boleyn Entraps Henry Percy
In the novel, Anne plots to attract Henry Percy so that she can be Duchess of Northumberland and be wealthy. She tells Mary, "I'm going to make him marry me" and Mary watches Anne with Percy and comments "I saw how she played him". Anne does indeed attract Henry Percy and the couple are betrothed and then consummate the betrothal to make it legal. Cardinal Wolsey steps in and puts an end to the relationship and Elizabeth Boleyn, Anne's mother, makes Mary forge a letter from Anne to Percy, saying that she has to give him up.
Fact: There is no evidence that Anne set out to trap Percy and it is likely to have been a love match – the two of them meeting at court and falling in love.
Fact: Mary Talbot, Percy's wife claimed in 1532 that her marriage to Percy was invalid because he was already pre-contracted to marry Anne Boleyn. Henry Percy denied this by swearing an oath on the Blessed Sacrament, in front of the Duke of Norfolk, the archbishops and the King's canon lawyers. There is no evidence that Anne and Henry Percy slept together.
The Boleyn Family Schemers
In "The Other Boleyn Girl" we see Thomas Boleyn, his wife, Elizabeth Boleyn, and her brother, the Duke of Norfolk, having family conferences and scheming, using Mary and Anne as pawns to raise the family's status, what my good friend Rachel Fitzpatrick refers to as "Pimp Daddy Boleyn Syndrome"!
We also see them abandoning Anne to her fate at the end of the novel, with Thomas saying to Mary "Don't you bring me into it… She went her own way, and him and you with her."
Fact: There is no evidence that the Boleyns/Howards schemed and used the girls as pawns, or that the girls were "coached". It is likely that Mary caught the King's eye with her pretty looks and Anne attracted him with her style and confidence, and that the families made the most of their favour. Women were seen as second-class citizens and daughters as chattels, but there is nothing to support the view that Thomas Boleyn set out to win favour through Mary and Anne.
Anne Boleyn and Her Sexual Stranglehold Over Henry
In the novel, when Mary is pregnant, Anne is ordered by her family to flirt with the King and keep him happy so that he does not take another mistress, a woman outside of the family. Elizabeth Boleyn comments to Mary, "Thank God Anne has him in her toils. She plays with him like you might tease the queen's dog. She has him on a thread" and Anne tells Mary that she is going to "hold out till he sees that he has to make me an offer, a very great offer". This suggests that Anne set out to trap and manipulate Henry VIII on her family's orders and that she held out on him sexually as part of the plan to become queen.
Fact: There is no evidence to support this theory. I personally believe that Henry was attracted to Anne and that she wanted to keep her virtue and not end up like her sister, an abandoned mistress with a bit of a reputation. There is no way that Anne Boleyn could have guessed that Henry would ever offer to make her his wife and queen when  she refused to be his mistress, how could she? Henry could have had any woman that he wanted, I'm sure Anne thought he would just move on to the next.
George Boleyn and Incest
The George Boleyn of "The Other Boleyn Girl" has an unnatural relationship with his sisters. He kisses Mary and then says "Kiss me again, kiss me like you kiss Henry" and he kisses Anne like a lover, not a brother:-
"He leaned forward and kissed her again. Her eyes closed and her lips smiled and then parted… his finger went to her bare shoulder and stroked her neck… his finger went into her smooth dark hair and pulled her head back for his kiss."
Anne later taunts him:-
"Don't you want to touch me… Wouldn't you rather take me to your chamber?"
And although we do not have a scene with them actually committing incest, it is clear that we are meant to think that Anne's third pregnancy is a result of incest. Anne says to Mary:-
"No one knows what went into the making of this baby, Mary. No one will ever know."
and
"For I went on a journey to the very gates of hell to get him. You will never know."
Mary then sees a guilty look on George's face and concludes that "Anne had taken him as her companion on her journey to the gates of hell to conceive this child for England."
Fact: Anne and George were found guilty of incest at their trial but there is absolutely NO evidence that they committed incest. The majority of historians believe that they were framed and Philippa Gregory is pretty much alone in believing that either of them would have contemplated it. George was a keen reformer, he would not have contemplated such an abominable sin, and neither would his sister.
Anne Boleyn and Incest
In the Q&A section of "The Other Boleyn Girl" is the following question:-
"How about Mary and Anne's brother, George? Did he really sleep with his sister so that she could give Henry a son?"

and here is Philippa Gregory's answer:-

"Nobody can know the answer to this one. Anne was accused of adultery with George at their trials and his wife gave evidence against them both. Most people think the trial was a show trial, but it is an interesting accusation. Anne had three miscarriages by the time of her trial, and she was not a woman to let something like sin or crime stand in her way—she was clearly guilty of one murder. I think if she had thought that Henry could not bear a son she was quite capable of finding someone to father a child on her. If she thought that, then George would have been the obvious choice."
Fact: The above answer is wrong in so many ways and on so many levels!! 1) There is no evidence that Jane Boleyn (Jane Parker) gave evidence against George and Anne. It does not appear that any witnesses were called at their trials and Jane is not named as the woman who provided the prosecution with evidence against them, it may well have been the Countess of Worcester. 2) "Not a woman to let something like sin or crime stand in her way"! Anne was a very religious person who risked her life and position by having "heretical" books in her possession, there is no way that she would have contemplated incest, it would not even have crossed her mind! 3) What murder? 4) Why would George be the obvious choice? How many women out there having difficulty conceiving consider sleeping with their brother? Aaaaggghhh!
George Boleyn the Homosexual or Bisexual
It was historian Retha Warnicke who put forward the idea that the men who were executed for adultery with Anne Boleyn were libertines who committed sodomy, and in "The Other Boleyn Girl" George not only acts inappropriately with his sisters but he also has a sexual relationship with Sir Francis Weston. He tells his sisters that " a boy is so clean and so clear" and then announces "I'm in love with a man". Later in the novel, Mary knocks on George's locked door and when George opens it, Sir Francis Weston is "straightening his doublet", suggesting that the two men have been enjoying a sexual liaison.
Fact: There is NO evidence that George, or any of the other four men, were homosexual or bisexual. All of the men confessed to being sinners in their execution speeches and Sir Francis Weston mentioned living in "abomination", but I think it is reading too much into their words to accuse them of what were illicit sexual acts.
The Deformed Foetus
In "The Other Boleyn Girl", Anne Boleyn miscarries a "monster", "a baby horridly malformed, with a spine flayed open and a huge head, twice as large as the spindly little body."
Fact: There is no mention of a deformed foetus in the contemporary primary sources and the only historical mention of it is in the writings of Nicholas Sander, a man who was a Catholic exile in Elizabeth I's reign and who set out to blacken Anne Boleyn's name. He was also the one who described Anne as having a "projecting tooth", "a large wen" and six fingers. The Imperial ambassador, Eustace Chapuys, who hated Anne and called her "the concubine", simply reported that "the child had the appearance of a male about 3 months and a half old" and Charles Wriothesley said the same. The deformed foetus story is therefore nothing but a myth to make Anne Boleyn appear to be a witch or to back up the story that she had committed adultery or incest.
Anne Boleyn the B**ch
There is no other way to describe the Anne Boleyn of "The Other Boleyn Girl", she is a complete b**ch and it's no wonder I get emails asking why I "defend" such a b**ch! Anne steals Henry VIII from Mary and then taunts her, she takes Mary's son away from her without her permission, she treats her siblings like her slaves, she quite likely poisons Bishop Fisher and his dinner guests and perhaps Cardinal Wolsey, Princess Mary and Catherine of Aragon too, she is vindictive when Mary announces her marriage to Will Stafford and her pregnancy, saying that she will tell Mary's son that his mother is dead, and she curses Jane Seymour, saying: "If she gets her hand on my crown and her arse on my throme I hope it is the death of her. I hope she dies young. I hope she dies in childbed in the very act of giving him a boy. And I hope the boy dies too." Nice!
Also, in the Q&A section at the back of the book, Philippa Gregory says that Anne was "not a woman to let something like sin or crime stand in her way – she was guilty of one murder… "
Fact: We do know that Anne had a hot temper and she could be pretty nasty at times, e.g. instructing her aunt to box the ears of the "cursed bastard" (Mary) and starve her if  she didn't behave, swearing that "she would bring down the pride of this unbridled Spanish blood" and even put Mary to death while her father was in France, BUT this is a far cry from actually killing someone. Anne was careless with words, she had a quick temper and often said things without thinking. In my opinion, her words were simply bluster, spiteful but no actual truth to them. We've all said things that we regret, and don't really mean,  in the heat of the moment! Anne was no angel but she was no murderess either.
Religion
Anne's faith and her reformist views are completely missing from this novel.
Fact: Anne was of reformist views. Her father and brother smuggled heretical books into England from the Continent, her brother translated reformist works for her, Anne helped reformist bishops get positions and she encouraged her ladies to read the Bible, which she left open in her apartments. She may not have been the Protestant martyr or revolutionary that some people think that she was, but there is much evidence to show that she had a real faith.
Anne Boleyn the Witch
In the novel, William Stafford says to Mary, "she [Anne] is certainly guilty of dabbling in witchcraft", and we see Anne taking a potion to bring on the miscarriage of her baby which has died in the womb and later in the novel miscarrying a monstrously deformed baby. The midwife who is present when Anne miscarries the "monster" admits to Mary that she has actually been employed by Henry to watch Anne and that she is a "witch taker". However, we never actually see Anne dabbling in witchcraft.
Fact: Giving birth to a deformed baby would have been seen as evidence of sexual sin or witchcraft, but there is no evidence that Anne did give birth to a deformed foetus.
Anne and Henry Carey
In Philippa Gregory's novel, after the death of Mary's husband, William Carey, Anne Boleyn suggests to her sister that she should adopt little Henry Carey and when Mary protests Anne tells her that it is already done. Mary says to Anne: "So that you have a son, Henry's son. You have a son who is a Tudor by birth. If he marries you then in the same ceremony he gets a son" and this scene suggests that Anne has taken Mary's son without her permission, and stolen him as part of her plan to marry Henry VIII.
Fact: Henry VIII granted Anne Boleyn the wardship of Henry Carey's in 1528, after the death of his father, William Carey. There was nothing unusual about this. Mary was a widow and Anne was in a position to provide for Henry and she could ensure that her nephew had a good education. He received education at a Cistercian monastery and also under the tutelage of the French poet, Nicholas Bourbon. She did not adopt him. We have discussed it on Facebook and Rachel Fitzpatrick pointed out that it was standard practice for the monarch to grant wardships to wealthy and influential courtiers, e.g. Lady Jane Grey was Thomas Seymour's ward and Catherine Willoughby was Charles Brandon's.
Jane Boleyn
The Jane Boleyn of "The Other Boleyn Girl" is a nasty busybody who is jealous of her husband's relationship with his sisters. In the novel, George is not exactly keen on marrying her and he later describes her as "viley jealous" and "light-fingered". Here is part of a scene where George is discussing Jane with his sisters:-
"It's not like lust," he said uneasily. "I can deal with lust. And it's not variety—I like a little taste of the wild myself. But it's as if she wanted some kind of power over me. The other night she asked me if I would like a maid brought in. She offered to bring me in a girl and worse: she wanted to watch."
"She likes to watch?" Anne demanded.
He shook his head. "No, I think she likes to arrange. I think she likes to listen at doors, to spy through keyholes. I think she likes to be the one that makes things happen and watches others at the business. And when I said 'no'…" He stopped abruptly.
"What did she offer you then?"
George flushed. "She offered to get me a boy."
Now, you can see where "The Tudors" got their inspiration for Jane from!
Later in the novel, at Anne Boleyn's fall, Madge Shelton tells Mary Boleyn of how Jane was interrogated the longest and that she wrote and signed a statement. Madge goes on to say, "It was after she had spoken to them that we all had to go in again and they were asking about George. Mary Boleyn, who is telling the story, tells the reader that at George's trial, "the strongest evidence against him was a statement written by Jane Parker, the wife he had always despised."
Fact: There is no evidence to support this characterization of Jane Boleyn and Jane did not confess to lying about George and Anne in her execution speech, that is a myth. Jane did tell Cromwell of Anne's indiscretion about Henry's sexual inadequacies, but we don't know what else Jane told Cromwell and it is time to stop using her as a scapegoat. You can read more about Jane in my post Jane Boleyn and the Fall of Anne Boleyn.
Lack of Maternal Love
In "The Other Boleyn Girl", Anne Boleyn is horrified when she gives birth to a daughter, " "A girl," Anne said in horror. "A girl. What good is a girl to us?" ", which is understandable when she knew how important it was to give Henry a son and heir, but there is no relationship between Anne and Elizabeth in the novel. Anne seems to lack maternal love and there is an awful scene where Anne strips little Elizabeth half naked to prove to everyone that she is perfect and beautiful, Elizabeth's lip is trembling as Anne rages at Henry.
Fact: It was Henry VIII who paraded his naked baby daughter in front of ambassadors to show how perfect she was. Also, Anne loved her daughter dearly and was a keen and good mother in the short time she had with her. Historians David Starkey and Tracy Borman refer to a story of how Anne Boleyn wanted to defy convention by breastfeeding her baby herself, but was prevented from doing so by her husband. Tracy Borman also writes of how courtiers were often embarrassed by Anne's displays of affection for her baby and that she loved to have Elizabeth next to her on a cushion, rather than shut away, out of sight and mind, in a nursery, and when Elizabeth was given her own household at Hatfield, Anne spent time carefully choosing fabrics for her daughter's clothes and visited her whenever possible.
The Movie
"The Other Boleyn Girl" movie, starring Eric Bana, Natalie Portman and Scarlett Johansson is even worse for historical inaccuracies:-
Henry VIII rapes Anne Boleyn
Anne making Henry promise that he'd never speak to Mary again after she's given birth to his son
Mary Boleyn intercedes on Anne's behalf and tries to get her pardoned
Mary Boleyn walks into court and takes Elizabeth at the end
It makes me cringe and shout at the TV!
Don't Knock Historical Fiction!
I know I'm going to get people saying that there's nothing wrong with historical fiction and that I shouldn't criticise it because people should be able to distinguish fact from fiction and I'm really not having a go at historical fiction. My bookcase is full of historical fiction: Jean Plaidy, C J Sansom, Robin Maxwell, Jeane Westin etc. BUT those authors are not saying that their novels are true and they carefully explain where they have deviated from the truth in their notes. Reading Philippa Gregory's notes and interviews, she is suggesting that she is an historian and that "The Other Boleyn Girl" is not a distortion of the facts, but is a retelling of Anne and Mary's story, and that is why I have such a big problem with this particular novel. I am constantly told on social media that I have my facts wrong because "in the Other Boleyn Girl it says…".
So, if you know someone who thinks they know Anne Boleyn's story from reading "The Other Boleyn Girl" or you know a student who is doing a project on Anne Boleyn, please tell them about the Eric Ives book, "The Life and Death of Anne Boleyn", or point them to this website. I don't like to blow my own trumpet, but I am committed to telling Anne Boleyn's true story by researching primary sources and the works of Tudor historians like Eric Ives, David Starkey, Alison Weir and David Loades.