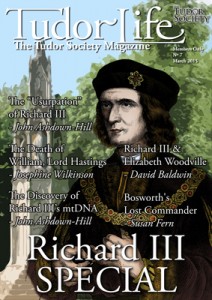 I can't believe that it's been six months since we launched the Tudor Society! I'm enjoying every minute of running it and it's been heart-warming to have the support of so many Anne Boleyn Files followers, history bloggers, authors and historians. The Society has grown rapidly and is going from strength to strength. Thank you!
We now have seven regular contributors to our Tudor Life magazine and guest writers have included Leanda de Lisle, Jessie Childs, Toni Mount, Susan Higginbotham, Derek Wilson, Elizabeth Fremantle, Nancy Bilyeau, Olga Hughes, J Stephan Edwards, Tamise Hills, Natalie Grueninger, Sarah Morris, Mike Ingram, Debra Bayani, Sandra Vasoli, Karen Bowman, Wendy Dunn, Anne Clinard Barnhill, Robert Stephen Parry and many more… All those historians and authors sharing their Tudor knowledge and expertise! Amazing stuff.
The March edition of Tudor Life, which is out now, has a special Richard III section featuring special articles from John Ashdown-Hill, David Baldwin, Josephine Wilkinson, Kristie Dean, Susan Fern, Olga Hughes and Toni Mount. From the Princes in the Tower, Richard III the "Usurper", the DNA research, to the lady who made silk tassels for Richard's coronation, we've covered a range of Richard topics! It seems an appropriate way to remember this monarch in the month of his reinterment.
And, not forgetting the Tudors, we also have Tudor-themed articles from renowned Tudor historian Derek Wilson, our in-house art historian Melanie Taylor, Tudor music expert Jane Moulder (from the group Piva), and Gareth Russell, Beth von Staats, Kyra Kramer and others.
You can enjoy a sample of the magazine, which includes an article by historian John Ashdown-Hill, at https://www.tudorsociety.com/sample-march-2015-magazine/